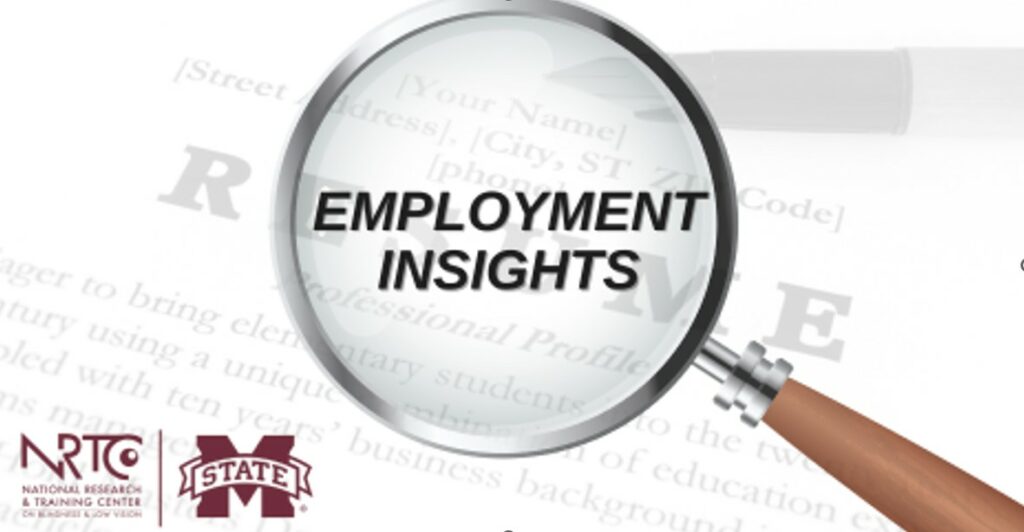 Editor's note: NRTC's Sarah Moody shares about NRTC's new podcast addressing employment challenges for individuals who are blind or low vision.
New Podcast Featuring Employment Journeys of Blind/Low Vision Individuals
Seeking employment can be challenging, no matter your level of vision. For individuals who are blind or have low vision (B/LV), employment may be even more challenging because of the need to consider disclosure in the workplace, navigating to work, and accommodations. These are just a few topics addressed in the new Employment Insights with the NRTC podcast.
At the National Research and Training Center on Blindness and Low Vision (NRTC), we are committed to enhancing employment outcomes for people who are blind or low vision. Our new podcast is designed to help individuals who are B/LV along their employment journey – whether they are navigating the vocational rehabilitation process, just beginning to consider careers, or seeking to gain or maintain employment.
We started our podcast to highlight the career successes of B/LV individuals, along with the obstacles and challenges they experienced along the way. We hope these relatable employment-focused stories will encourage listeners about the employment opportunities available to them.
Led by our host, Sylvia Stinson-Perez, each episode consists of an interview with a person who is B/LV and focuses on encouraging and inspiring listeners and informing them about the skills needed for employment.
Our interviewees are individuals with various experiences with blindness/ low vision who provide insight into getting started on their employment journey and the twists and turns of their careers. Throughout our podcast episodes, we ask the pressing questions – how they found employment, disclosed their vision impairment to their employer, what their motivation was, and how they obtained accommodations.
Podcast
Visit the NRTC Podcasts page to learn more about our podcast episodes.