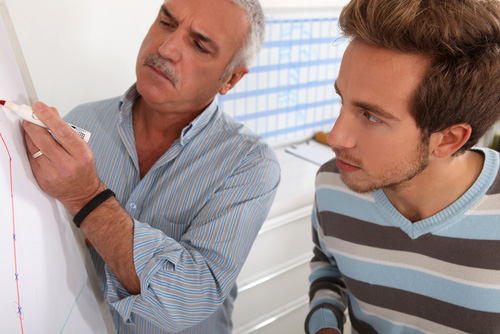 Happy National Mentoring Month! With self-improvement goals in the air, January is the perfect time to get involved in a mentoring program. Join us for the next two weeks as we celebrate our CareerConnect mentors, encourage students and professionals to get involved, and share the benefits of developing a meaningful mentorship!
But in case you didn't know that January is National Mentoring Month, I will let you in on a little secret. Mentoring truly can make a world of difference in all aspects of your life. Whether you are a student, young adult, or a working professional, mentoring is linked to improved academic, social, and economic prospects. That's right! Making new connections and gaining first-hand knowledge from a mentor can impact your life in all the right ways!
Individuals who have a mentor are more likely to develop a strong sense of self-confidence and independence. They will be able to find a job, maintain excellent networking skills, and climb the ladder of success! Sound like something you might be interested in?
If you are a student or young professional interested in becoming a mentee, you are in luck! APH CareerConnect mentors have a wealth of knowledge and first-hand experience that would benefit you, a blind or visually impaired job-seeker, as you carve your own path to independence. Start making connections today!
If you are a blind or visually impaired professional with job experience, maybe mentoring is more your game. The CareerConnect e-mentoring program is always searching for new mentors! Become an APH CareerConnect mentor today!
By joining a mentoring program, you will be well on your way to self-improvement! For more information on mentoring, check out these links!