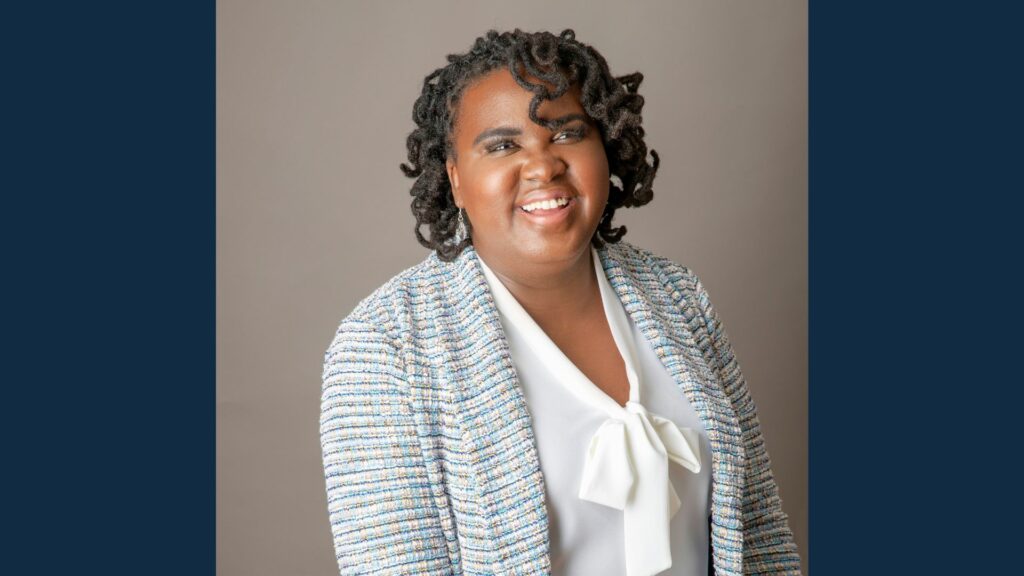 Denna Lambert
CC Editor's note: In Celebration of October as National Disability Employment Awareness Month, we interviewed Denna Lambert who started her career at NASA right after college – and has continued evolving into new and exciting roles with the agency, including becoming the diversity, equity, inclusion, and accessibility (DEIA) lead for NASA's Early Stage Innovations & Partnerships (ESIP), which is part of NASA's Space Technology Mission Directorate (STMD) initiative.
National Disability Employment Awareness Month: Denna Lambert's 19 Years at NASA
Denna Lambert started her career at NASA 19 years ago, and it all began with her taking initiative. Although her roles and responsibilities have changed over the years, her determination to keep reaching for higher goals has never waned.
Blind since birth, Denna wasn't having any luck finding a job after graduating from college. But when she spoke at a conference for students with disabilities, she got noticed by someone at NASA who invited her to apply – and she's been working there ever since.
Denna says NASA has always embraced inclusion, going beyond what's mandated by law under the Americans with Disabilities Act (ADA). And she helped make that commitment even stronger, spending nearly 10 years as disability program manager for the NASA Goddard Space Flight Center.
"I had a great set of managers who gave me the runway to take the program from processing accommodation requests and expand it into doing some great outreach work to students and universities and bringing in interns with disabilities," she says. "We also did some really intense education and awareness for our workforce on what disability looks like in the workplace and how it's evolved over time. It encompasses a lot more experiences than being blind, deaf, or being in a wheelchair – it's more nuanced than that."
When Denna left that role in 2016, she says the program was "really cool and robust," and included some solid partnerships with universities and other organizations.
Exploring New Opportunities
Her next assignment at NASA was being the project lead for the Goddard Library, which was in the process of transitioning from only having hard-copy collections to being a more multi-use space. Denna's role encompassed working with architects, internal designers, and NASA scientists to identify how the library could better meet the needs of both researchers and the center itself – work Denna describes as "transformational" for the library.
In 2021, she became the diversity, equity, inclusion, and accessibility (DEIA) lead for NASA's Early Stage Innovations & Partnerships (ESIP), which is part of NASA's Space Technology Mission Directorate (STMD) initiative.
"If you think of it like a funnel, ESIP is the widest point of entry into the STMD pipeline," Denna explains. "We work with small businesses, universities, faculty, and the general public who have ideas that need an opportunity to be invested in so they can go into our higher-technology readiness level projects, like our flight mission projects."
ESIP has more than 700 funding opportunities a year totaling about $350 million.
"We're really trying to think proactively about starting conversations where good technology ideas exist in underrepresented and underutilized communities," Denna says.
Although NASA is the first "consumer" of great ideas and concepts brought forth through ESIP, as Denna puts it, NASA also makes its technology available to individuals and entrepreneurs who want to license the technology for other purposes.
"That can be a great benefit to the disabled community," Denna says. "Some of the technology is used in prosthetics, or sensors, or circuits that make our phones and notetakers lighter and more powerful."
Embracing Challenges
Given that NASA has long considered accessibility part of diversity, equity, and inclusion (DEI) – after all, just consider Denna's current title – she's excited to see that the theme of this year's National Disability Employment Awareness Month in October is "Disability: Part of the Equity Equation."
"If you think of equity and employment and impairment, it's not a one-dimensional problem – it's a complex challenge that's going to require a lot of different ingredients to make it work," Denna explains. "With COVID, we're seeing people now living with health conditions and disabilities that didn't exist two years ago. So, employers are having to get used to adapting and shifting to a mindset that not just one person is impacted, possibly with a disability, but it could be a whole team."
Never one to shy away from a challenge, Denna also took on a significant one outside of work: becoming a single mom. She adopted her son Caleb in 2019 and he started preschool this fall.
"Blind folks and disabled folks have very similar dreams and aspirations as anyone else, like having meaningful work and family experiences," she says. "I knew from an early age I wanted to support a child that needed a home, but I definitely had my own fears of whether someone would pick me as a blind mom and a single mom. But it all worked out – and I think of any challenge or barrier as testing our true grit and an opportunity to discover more of yourself and who you are."
Learn more:
Denna has even more to share about her career journey and experiences. Watch her episode of Career Conversations: