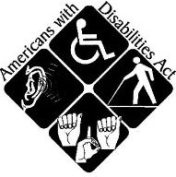 Twenty-seven years ago, a historic piece of legislation was on the verge of becoming law in the United States. For millions of Americans, it was a moment which had taken years to finally arrive. Little did I know that this legislation would one day be significant to me.
Yes, you guessed it. The legislation I speak of is the Americans with Disabilities Act (ADA).
It was the summer before I began my sophomore year of high school. I was preoccupied with strength and conditioning activities most days. My goal was to become a starting linebacker for my high school football team. All of my attention was focused on the upcoming football season. So, I did not notice when, two weeks or so before football practices began, the ADA was signed into law.
Unlike today, its significance did not penetrate my realm of worldly understanding. Hey, I was only 15 years old back then. My eyesight, as far as I knew, was perfect. But, almost five years later, I was diagnosed with retinitis pigmentosa. That is about the time I began interacting with vocational rehabilitation counselors. I learned a little more about the ADA and its protections.
Life moved along as my eyesight deteriorated slowly. I obtained a college degree then landed my first full-time job. Not long after, the reality of my situation hit me. Really, for the first time, my diminishing eyesight began impairing my ability to distinguish letters and numbers on a computer screen and on paper. That is the moment the ADA became relevant in my life, big time.
Finally, 10 years after its passage, I understood its importance. It took a tangible, real life situation to open my mind. That is when I realized how important the ADA was to me and to other people with disabilities.
Since then, my knowledge about the ADA has increased. It is essential to know what my rights are in regard to employment, transportation, service dogs, and much more. Understanding comes from knowing the ADA. I am not an expert in it, but I know enough to protect myself from discrimination when it occurs. It gives me the confidence and the platform to advocate for myself when necessary.
Oh, let me give you a quick myth in the dog guide community. On several occasions, people have told me they still have a little eyesight, so they think that fact excludes them from obtaining a dog guide. My follow-up question is simple. Has your doctor determined if you are legally blind? Every time I asked that question the answer is yes. So, understand this. You do not need to be totally blind to obtain a dog guide. I worry that this myth is pervasive.
The reason I bring up that myth is to warn you that you do not need to be totally blind to fall under the protection of the ADA. Again, if a physician determines you are legally blind, then you are covered under the ADA.
You may have recently been told you will lose your sight. You may be a spouse or a caregiver to someone who is losing their sight. Maybe you are an employer, a teacher, or a counselor. Whatever brought you to read this blog, I urge you to learn more about the ADA this month.
Follow the links below to build your knowledge and evolve your understanding of the Americans with Disabilities Act!