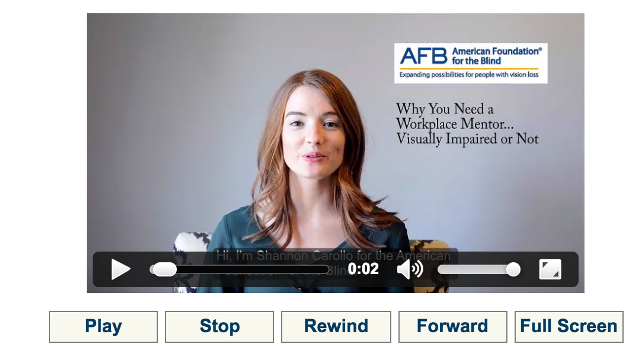 The end of the month is finally here, and while we prepare for Independence day travels and the month of July, we also should reflect on accomplishments, work, and adventures this past month. June was an eventful month for APH CareerConnect ranging from The Helen Keller Achievement Awards, the start of summer challenge blogs, and much more. So how do we pick a favorite blog this month? That's right, it's time again to cover this months favorite blog post. And the winner is…CareerConnects first ever video blog!
If you aren't caught up on APH CareerConnect news you may have missed the launch of our first ever video blog. Shannon Carollo talks about the importance of mentors and how they can benefit anyone and everyone in "Why You Need a Workplace Mentor…Visually Impaired or Not". What's so special about this blog, besides the content, is its accessibility. Shannon's blog is formatted in a video component with subtitles as well as featuring a full written monologue for the video. This broadens the scope for APH CareerConnect readers, allowing the blog to be read, listened to, or watched.
Besides the pretty awesome upgrade in viewership, Shannon's blog tackles the importance of mentorship in the workplace which is an important step in job finding and career success.
Shannon outlines the various benefits in having a workplace mentor including:
A sounding board for your questions, and answers for many of them.
Knowledge learned from the mentor's mistakes, failures, and successes.
Realistic, honest feedback on your job performance.
Suggestions for improving your job performance, including efficiency and accuracy.
Training in career-specific policies, procedures, tools, and technology.
Shannon's blog covers various other advantages that a workplace mentor can provide you with.
Finding a workplace mentor is easy, and if you accepted our challenge early this month you may have already connected with a CareerConnect mentor. If not, today is the day to start connecting and reaping the benefits of a workplace mentor.
If you have yet to do so, be sure to check out Shannon's blog today! Read it, watch it, or listen to it… we're giving you the choice!
As always, don't forget to tell us your favorite blog this month in the comment section below!