Have you ever wondered how someone who is blind or visually impaired could find success as a working artist? Are there really accommodations out there that can turn this visual field into a realistic employment option for someone without sight?
The answer is "Yes".
Meet Will Ursprung. Will is one of our many visually impaired artists who have found employment success. He works with different pieces to create something new and intriguing. Read his process as a mixed media collage artist.
Seeing Beauty from Another Angle: Visually Impaired Collage Artist, Will Ursprung, Shares His Process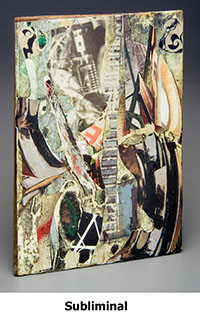 By Francesca Crozier-Fitzgerald
Mixed media collage artist, Will Ursprung finds art in some pretty peculiar places—on the side of the road, in and around dumpsters, in alleyways, and salvage yards. He collects broken, discarded pieces of steel, wood, old newspaper, and magazine clippings and assembles them into a collage. He takes these forgotten pieces, parts of the whole object they once were, and plays around with them until they create the impression he's going for. To achieve the proper aesthetic, a brassy or vintage finish, Will may bleach or dip certain metal scraps into vinegar. In a series of cutting, layering, overlapping, and repositioning, the collage becomes art. One man's trash is truly another man's treasure—and ours—in this case.
Will Ursprung was born prematurely in 1952 in Pennsylvania and diagnosed with retinopathy of prematurity. His parents were told that, like the other premature infants in the nursery, Will would be completely blind for the rest of his life. Luckily, they were wrong. While he is legally blind, his reduced vision does not affect his process or practice and has never been a cause for slowing down his mission with art, art education, or art therapy. He may not hold a driver's license, but for what he's doing, no car is needed.
Read this article about Will's process of creating unique works of art as someone with a visual impairment.