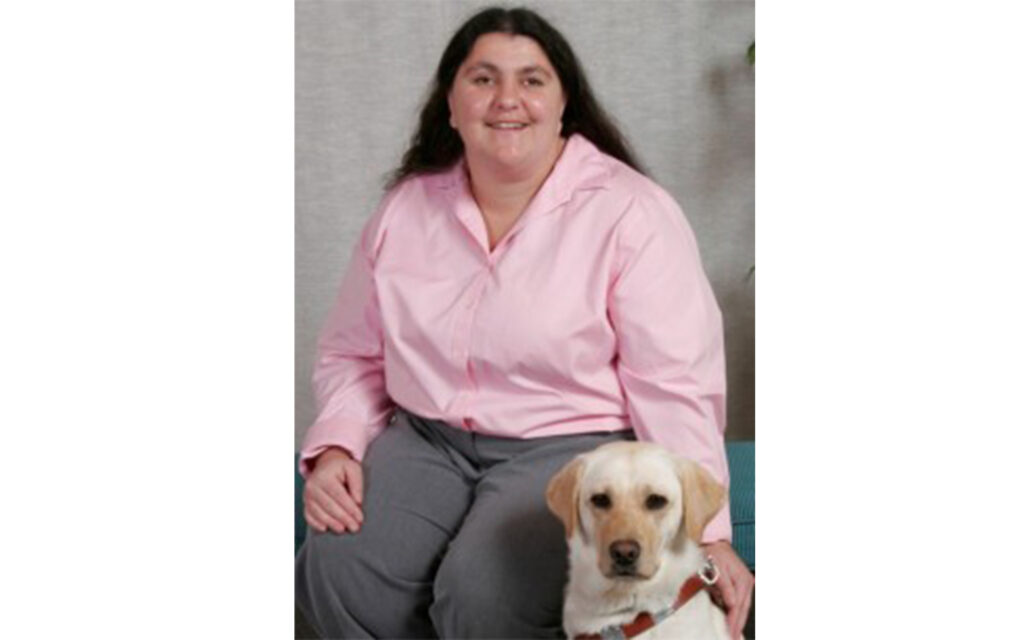 Career Conversations is a monthly Zoom interview of an individual who is blind or low vision and gainfully employed. Meet our first guest, Lucy Greco and watch her Career Conversation episode at the bottom of the page.
Lucy Greco, on what shaped her
Lucy, blind since birth, grew up in Canada with her mother and father, brother (who is also visually impaired), and two sighted sisters. Reflecting on her early life and experiences that shaped her, Lucy shared, "My brother and I had a lot of services and experiences [for individuals who are blind or visually impaired]. Every summer we had very active, vibrant plans like special camps, bicycling trips, and planned outings. Actually, being blind gave us these opportunities, though it also took some opportunities away from us. I wasn't given a bicycle when my able-bodied sisters were, but at the same time I was part of a larger community of people who are blind or visually impaired. I think that's really, really important, to know you're a part of a large community and understand what the differences are [between the blind and sighted communities] and how to overcome the limitations."
Lucy developed emotionally and physically as she continued to participate in athletic activities throughout her childhood. She remembered, "I was always doing things like rock climbing, mountain climbing, horseback riding, and skiing. I was trying to do what's adventurous, going out there and doing things! I think this grew my confidence. I challenged myself by taking risks."
Lucy shared that she's thankful her parents allowed her to take risks and participate in activities, both in and out of the home, despite their being worried about her safety. "I realize my parents gave me opportunities that not all parents of children who are blind or visually impaired give. My mother never said I couldn't do something, like be in the kitchen; she was always there hovering, but she always let me do things. She had me participate in making my favorite fried chicken at age eight! She made sure I was doing whatever it was I wanted to do as safely as possible, but she let me do it. And you know, you don't learn without burning your fingers or cutting yourself once or twice."
College Years
Lucy eventually found her niche in goalball and competed at the Olympic level for Canada. She didn't, however, let her athletic pursuits detour her desire for a college degree. While originally hoping to become a physical therapist, Lucy recognized the classes weren't accessible at the time; she chose, instead, to study literature. She began college in Canada and completed her studies in the United States.
She reflected, "The accommodations at that time weren't that great. I look at how we accommodate students today. There are processes and precedence and known accommodations we can give students. I had to make that up! I had to talk to faculty on my own and come up with ideas." Lucy realizes it was then she acquired the art of negotiating; she learned how to get what she needed and speak for herself. She discovered how to do so with respect instead of becoming aggressive or offensive—a tool that prepared her for a career in advocating for and ensuring accessibility.
Career Progression
Ever the athlete, chef, and risk-taker, and determined to make opportunities accessible for those with disabilities, Lucy's career progression included coaching goal-ball, cooking instruction for those who are blind or low vision, assistive technology instruction, and later helping college students with course accessibility at the University of California, Berkeley. In time, the university gave Lucy a full-time position leading a team devoted to systemic accessibility on campus. In other words, Lucy and her team help ensure accessibility is "born" or "baked" into campus technology from the beginning. 
Laughing, Lucy stated "I don't rock-climb anymore. I'm not the same type of risk-taker these days, but when it comes to jumping in and trying a new product or taking on a new job role, I'll do it. I realize that without trying, you don't get anywhere. Doing all the adventurous things I did as a kid taught me that the first part of succeeding is trying."
Lucy's endeavors and experiences certainly shaped her confidence, interests, aptitudes, and skills. No matter her chosen career field, Lucy was prepared to fight for accessibility and engage in rewarding employment. It's no wonder she is an accessibility evangelist, an asset to those at the University of California at Berkeley, and beyond.
Want to learn more about Lucy?
Check out the following recording, APH CareerConnect's first-ever Career Conversation: