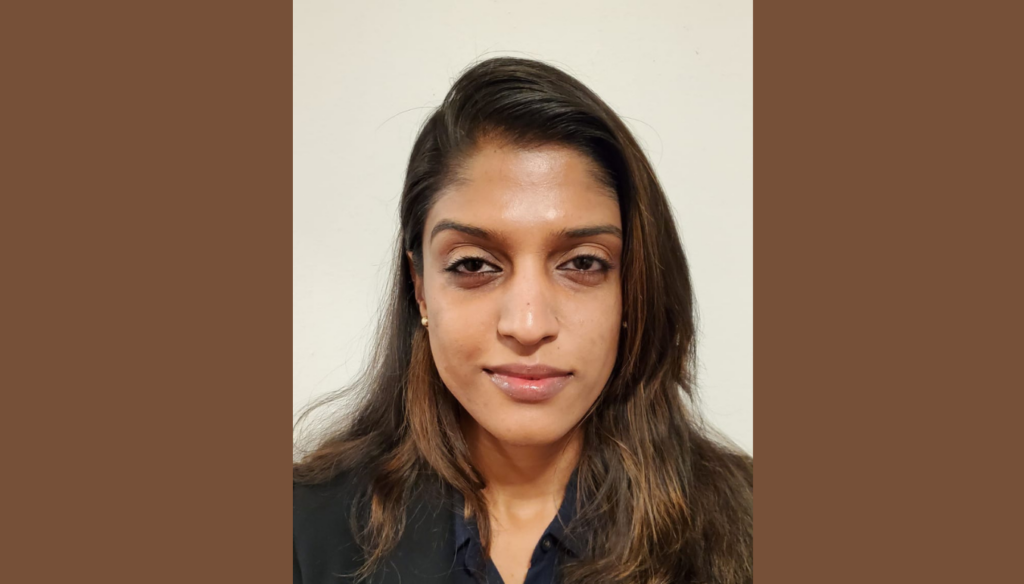 When Khadija Bari first moved to the United States at the age of 22, the availability of services for people who are blind or low vision – or even, to a large degree, accommodations being provided without her having to ask for them – were relatively new to her.
Khadija's family lived in many countries, including Saudi Arabia, Malaysia, and Pakistan, due to her father's work. She began losing her vision when she was eight years old, but those countries didn't have any regulations in place for disability accommodations. It wasn't until high school in Pakistan, which used a British curriculum, that she was asked if she needed accommodations, such as large print or more time taking tests.
But with the support of her mother, Khadija had already learned to advocate for herself in school, including asking for 25% more time to complete exams. She would tell teachers she couldn't see the blackboard, ask them to read aloud what they were writing on the blackboard, and request copies of notes from classmates. Khadija eventually received a video magnifier, known as a closed-circuit TV (CCTV). Obtaining a CCTV was transformative for Khadija, even though she constantly had to explain to teachers that it wasn't a computer that helped her cheat, but simply a magnifier.
"I had loved reading until I was 12 years old, but by the next year I couldn't read novels anymore," she says. "When I got the CCTV at age 14, I started reading books again, and my study became more independent."
Getting an education, in more ways than one
Khadija's journey to getting a correct diagnosis for her vision loss spanned the world she traveled in her youth. She was initially diagnosed with retinitis pigmentosa in the Middle East, but when her family took her to Singapore, which had a reputation for its retinal research, she was diagnosed with macular degeneration. Khadija was officially diagnosed with Stargardt disease in 2019 and, after moving to the U.S., learned she was legally blind.
But that certainly hasn't slowed her down. She took advantage of the services available in the U.S., including Orientation & Mobility (O&M) training to use a white cane. She earned her bachelor's degree in Economics and Finance and her master's degree in Economics from Hunter College of the City University of New York.
"I remember the first time I walked into my graduate school for admissions, they suggested I visit the disability services office, and I didn't even know what that was, because I'd never had that experience overseas," Khadija says. "When they explained they had an office that catered to people with disabilities, my jaw dropped."
Discovering the right career
Although Khadija fully intended to use her degree in economics in her career, the internship experience made her realize that corporate culture wasn't a good fit for her, in part because inclusion wasn't a priority. She worked part-time at Queens College of the City University of New York, helping first-generation college students in their freshman and sophomore algebra and calculus courses.
When she began looking for a full-time job, she received a recommendation to visit VISIONS/Services for the Blind & Visually Impaired for assistance with her job placement. She proceeded to meet with the agency which was so impressed with Khadija's skills that they asked if she wanted to apply for a job opening. She said yes – and interviewed for the position the next day. She was promptly hired as the Student Career Coordinator.
"In the beginning, I thought I'd still go back to working in finance and data analysis, but six years later I'm still here," Khadija says.
She moved up through the organization, serving as College Program Manager and, in April 2022, she was named the Director of Placement Services.
"What's kept me here is the fact that I have the opportunity to make a difference in the lives of others who are visually impaired," Khadija says. "From my youth, I know what it's like to struggle to get the accommodations you need. And in my work with VISIONS I've also had the chance to learn about what it's like from the other side of the table – from the employer's perspective. It's helped me understand their questions about hiring someone with a disability, and spreading education is a major part of my mission."
Leading by example
To help increase awareness, Khadija is part of RespectAbility's Women's Speakers Bureau in New York City and was invited to serve on the organization's Board of Advisors. She also had the opportunity to speak at the United Nations in 2020.
What's more, Khadija is an entrepreneur, having opened a restaurant in Manhattan called MEAT + BREAD in partnership with two others. Her primary role is handling administrative tasks and some aspects of social media, as well as looking for ways to make dining at the restaurant a more inclusive experience.
What advice does she have for people embarking on any type of career?
"Use the resources you have, whether it's your college career services office, your state agencies, or your network – and networking is a major part of the game when you're moving up in your career," Khadija says. "I would never have had the opportunities I've had if I didn't talk to everyone I could think of and tell them what I was looking for."
Learn more:
Watch an interview with Khadija on an episode of APH ConnectCenter's Career Conversations.
---