In March 2017, Denna Lambert was a presenter at the AFB Leadership Conference in Alexandria, VA. She was on a panel where she shared about her life and career at NASA. In honor of National Disability Employment Awareness Month, we wanted to continue the conversation and share more of her career success. Here's her story.
Denna Lambert Successfully Launches Her Career at NASA As a Visually Impaired Project Manager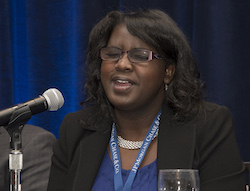 As Denna neared graduation, she began looking for a job with the help of her college's career services. Denna explained how she kept hitting a wall during her job search because employers couldn't see how a person who was blind or visually impaired could do the work. The staff at career services encouraged Denna to contact Alan Muir, Executive Director of the Career Opportunities for College Students with Disabilities.
"They were holding a conference where I was asked to also be a student speaker," she said. "NASA was there recruiting and asked me would I move for a contract specialist position, and I said yes!&rdqou;
She moved, and after just one year at NASA, Denna was promoted as Disability Program Manager. She was able to use her degree in business administration with a concentration in human resources and her life experience as an African-American and disabled woman to provide expertise in the area of diversity and inclusion. So for the next ten years, she guided, directed, led, and advised staff members in the areas of equal opportunity employment laws, affirmative action, recruitment of students with disabilities and minority groups, and reasonable accommodations for disabled employees.
"When I started in HR, I helped with teaching about disability and accommodations. It was very basic and not much had been done on outreach," she said. "Things got better, and I became the expert. Later, I felt pigeonholed and wanted to move on to other things."
Learn more about Denna Lambert and her career by reading the rest of her Our Stories article.