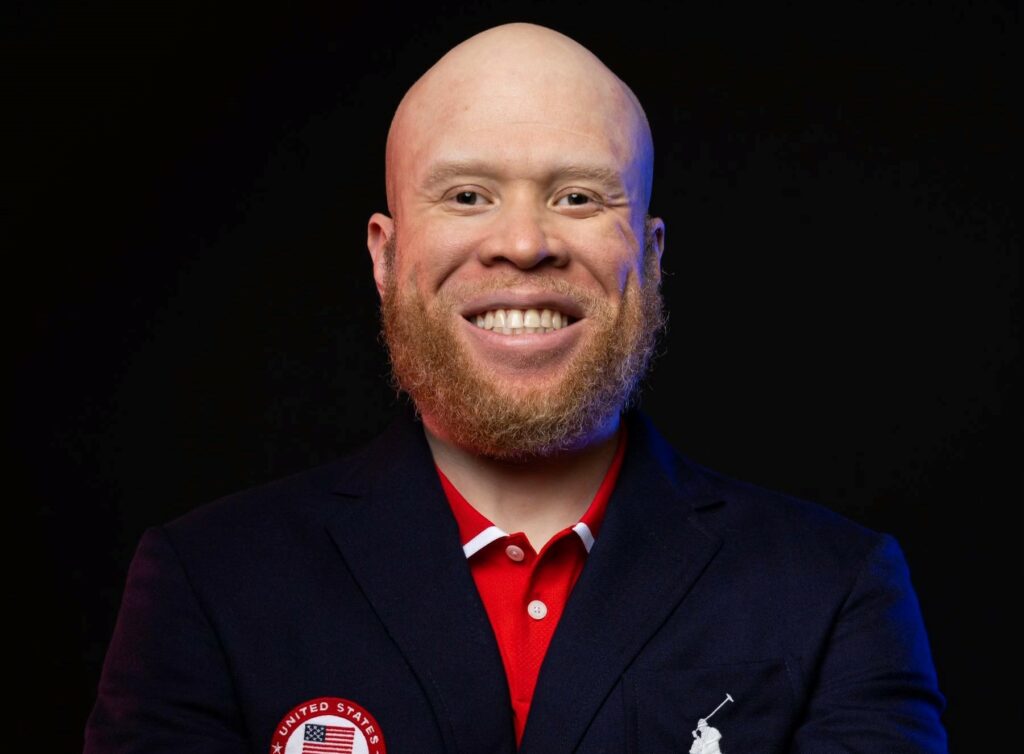 Daryl Walker was born with albinism and accompanying low vision. However, throughout his 40 years of life, he hasn't let low vision slow him down… even the slightest. Daryl is a three-time goalball Paralympian representing Team USA. Goalball, according to the United States Association of Blind Athletes, is the most popular team sport for athletes who are blind/ low vision, originating in 1946 and developed to keep WWII veterans who were blind or low vision physically active.  
Goalball
Goalball is a Paralympic sport and is played competitively in 112 countries. Bells inside a 2.8 pound goalball allow those who are blind or low vision to know where the ball is moving. The goal is to earn points by rolling the goalball into the opponent's net. You can learn more about the sport by reading the APH FamilyConnect blog post Goalball: An Overview from the United States Association of Blind Athletes.
Walker became interested in goalball when he attended the Florida School for the Deaf and the Blind in January of 1996, and he says he owes much of his personal success to his team.
"The support of my teammates and coaching staff is huge for me. Without it, there's no trust or honesty. We've grown to become a family of our own because of the trust and honesty we have with each other," said Walker.
Walker and the Men's USA Goalball Team practice at Turnstone Center for Adults and Children with Disabilities in Fort Wayne, Indiana, and you can learn more about Daryl and US Paralympic goalball teams here.
Walker is a silver medalist, has been to 14 countries and 25 states, has won five national championships, has even been to the White House twice where he met President Obama. To say he has accomplished much in his lifetime would be an understatement. However, it would be wrong to assume success has always come easily to him. Daryl says the hardest thing for him is continually having to adapt to his surroundings.
Overcoming obstacles
"There's always going to be a time and place where I can't do something like someone else can. I have to rely on public transportation to get where I need to go. But for my sighted friends, they can get into their car to drive to where they need to go," said Walker.
Another example Walker shared is that sometimes he struggles to see if a seat is open on the bus, due to his eye condition.
"Acceptance [of having an eye condition] is the biggest thing. It took me until I was an adult to accept that I have a disability. I was in major denial. Once I did accept, it hurt because I had to let certain opportunities go. But in time, it made room for new ones that were designed for me."
Daryl's family and words of advice
One opportunity that Walker took advantage of in 2020 was getting married.
"Growing up, I would always notice parenthood through friends, family, church, and television. I would notice the love, devotion, commitment, and dedication it took to be married. Plus, the desire to have one person who you chose to be your most trusted partner for life. So, I decided that I wanted that at age 15. Then, at age 38, I was able to have it," says Walker.
Walker says being married to his wife, Melissa, for the past two years has allowed him to grow to be a better person, and while his wife has helped him grow as a person, he would like to give back by helping others who are blind or low vision grow by offering a bit of advice.
"Accept who you are. Love who you are. Be proud of who you are. Your dreams can come true. They just look a little different than what you thought they'd look like. Persevere, adapt, and above all else, never give up," says Walker.
Learn more: