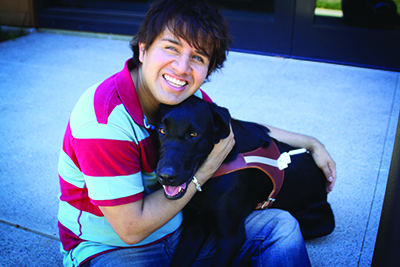 Beaten and robbed of his sight by childhood friends, Belo Cipriani was unexpectedly thrown into the world of blindness. He suddenly found himself learning how to walk, cook, and even date in the dark at age 26. But instead of letting vision loss defeat him, Belo has triumphed in his new world of contemporary blindness as an author, teacher, and freelance journalist.
When Belo first lost his sight, he struggled to find stories similar to his for encouragement and advice. He suffered from depression, anxiety, and PTSD because of his attack, so his therapist suggested he journal to help him cope. And it worked! As a result, Belo released a book, Blindness: A Memoir. The book chronicles the two years immediately following Belo's assault.
"I am proud of the fact that I was able to do this so quickly," Belo explained. "I lost my sight in 2007, started writing the book in 2009, and it came out in 2011. I got through so quickly because my book was a diary. Had I waited any longer, I would have lost all of those details. I am happy I got it out there before the memories were gone."
Read more of Belo's story here!