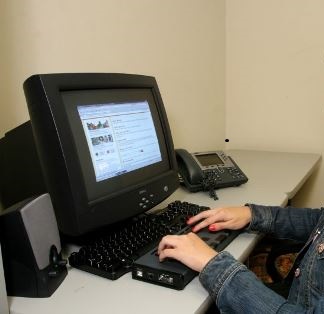 Whew! This time of the year we are all planning or going to dinners and parties, looking for the perfect gift for someone, cramming for finals and running here, there and everywhere. So much to fit in to our already crowded schedules! While these activities are fun, still it is very tiring mentally and physically. So why not plan a night this week for some down time to relax and enjoy reading about the great successes of people who are blind or visually impaired doing jobs not too many thought they could do. Chances are you will find someone doing a job you are considering too.
Find over one hundred first person accounts of individuals successfully working in many varied occupational fields. You can read about people with significant vision loss working and thriving in the culinary arts, science, technology, education, law, communications, and many other chosen fields. In each of these stories you will learn how the person found their job, what they were doing at the time that led to their current employment, how they deal with transportation, the technology they use, and what they think of their jobs and their co-workers. They are honest about their feelings and tell you what they like and don't like about their job and how they overcame their challenges.
It's very inspiring to know that blind and visually impaired workers are out there, not only succeeding and thriving in a job they chose to do, but are equal in proficiency and productivity to, if not ahead of, their sighted peers.
Browse the Our Stories page found on the home page of APH CareerConnect and check out the list of occupations on the right side of the screen. When you see one that sounds interesting click on it to see the true stories about these workers. At the bottom of each story you will find their name as a link that will give you an email page to connect with them. How's that for a great bonus!?
Reading on a silent night. Ahh, what a great way to relax, get happy and feel inspired. And, where else do you get to personally connect with the subject of the story and pick their brain about what they do and how? Nowhere that I know of!
Below is a shortcut to a few of the latest stories, but don't stop there, check out all of the categories. So get yourself some eggnog or hot chocolate and hurry on over to Our Stories on APH CareerConnect and find your favorite stories and mentors. They're all waiting just for you!
---
AFB Holiday Hits
You're a Mean One, Mr. Grinch: Dealing with Rejection As a Job Seeker Who Is Blind or Visually Impaired
Keep Rockin' Around Your Tree By Improving Your Orientation and Mobility Skills As an Individual Who Is Blind or Visually Impaired
These Cover Letter Secrets [Jingle Bell] Rock! Get Your Resume Noticed As a Job Seeker Who Is Blind or Visually Impaired
My Only Wish Is to Better My Weaknesses As a Job Seeker Who Is Blind or Visually Impaired