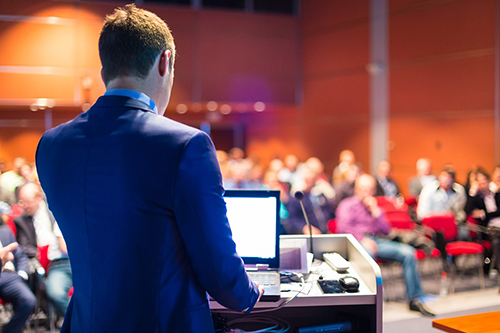 The Alamo and the Spurs should watch out, as AFB is all set to take San Antonio by storm. I am packing up and preparing for my presentations at the 2014 AER International Conference in San Antonio, Texas. A number of AFB staff will be rolling out to the conference. I am looking forward to the networking, resources, and visiting with friends. I hope to see Amy Guerette (FSU), Dave Henzy (UTSA), Pat Leader (AER), Mickey Damelio (FSU), Sandra Lewis (FSU), Kitty Greeley (FSU), Annie Gallagher (Vanda), my NJ friends (Pura), the AFB Family, the AER staff, my friends from around the United States, and all of you!
I know AFB's exhibit will be showing off the latest books and releasing one more, about the Expanded Core Curriculum. George Abbott and his staff will be promoting these additions and the host of AFB eLearning opportunities from the eLearning Center.
A well-known name and face of AFB, Ike Presley will be spreading the gospel of low vision technology and all kinds of resources for professionals and the classroom. He is all about creating access by encouraging people to have the right tools. If you attend his sessions, you will not be disappointed; as all of the Ike Presley groupies know (I am a big fan!). One of my many mentors over the past years, Scott Truax, FamilyConnect Master, I mean Program Manager, will be telling all who will listen about working with families and amazing resources from FamilyConnect. Scott will be scouting the 2015 AFB Leadership Conference presenters and future partners. He doesn't have to travel far, as he lives in San Antonio, which means he will be packing light.
Mr. Lee Huffman will be the well-dressed Editor of AccessWorld at the exhibit explaining how you should be using AFB's AccessWorld with your students and consumers. Also, he will be throwing out that you should download the AccessWorld App. You will find Anne Durham and Tina Chapman marketing and communicating about our great offerings from the exhibit area. They are two communications masters on a mission.
If you are part of the Vision Rehabilitation Teacher / Therapist Division, you will be honoring George Abbott, and I will be honoring him by buying him a beverage of choice at a local establishment along the beautiful San Antonio Riverwalk. You might also see George at the JVIB meeting, if you are involved in making the journal the top peer reviewed journal for our field (and, the only one).
You will find Pris Rogers hustling to build connections for AFB and VisionAware, and providing people with information on the "Getting Started Kit." Pris makes things happen—if you know her, you will know what I mean. VisionAware also allows you to sign up for their alerts about new content and additions to blogs, which feature people like my favorite blogger, Maureen Duffy. Seriously, she is the blog queen, and I look up to her work.
Judy Scott will be networking and pushing AFB's web programs and the Center on Vision Loss as the resource centers that you need to know about. Neva Fairchild will be presenting and explaining about the latest developments from the Center on Vision Loss. Ask her about the cool virtual tour in the works. You will hear Mark Richert getting us up to date on the latest updates from Washington, DC. He will be promoting the Anne Sullivan Macy and Alice Cogswell Act, specific to making sure that the Expanded Core Curriculum is the focus for educational professionals in the vision field. I listen in awe about the updates and what I should be aware of from our capital.
You might catch me at the exhibit on Thursday afternoon or Friday. Otherwise, I have two sessions at the conference on Saturday. The first session is on youth development, and the second is on the National Transition Network (providing information and where we are going with the project). I will be wearing my suits, signature hats, and carrying Slim (my white cane) throughout the conference. I will be spreading the word about APH CareerConnect, the CareerConnect App (download it), and all of AFB's other great resources. Please say hello as I tap by with Slim and my awesome hats, which I hope not to lose during the trip. See you at the Alamo, I mean the Hyatt on the Riverwalk.