Today's blog is from an APH CareerConnect contact, from our friends at Lighthouse Works!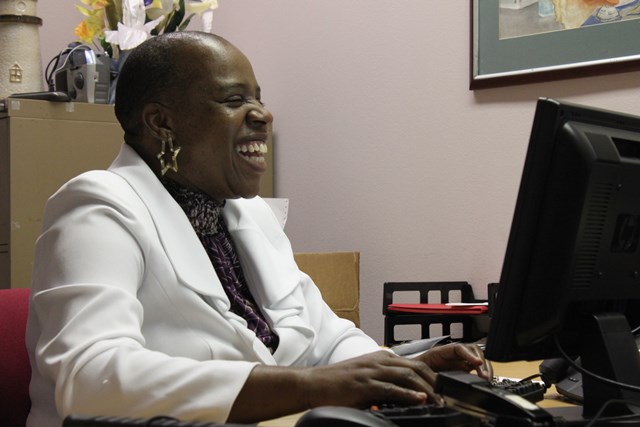 My name is Sharon McDonald, I'm a mother of three, a senior trainer and instructor at Lighthouse Works, and aside for some light perception…I am totally blind.
I'm posting in the Career Connect blog today because I want to tell you about an opportunity to work in the customer service industry as a Contact Center Representative at Lighthouse Works.
Lighthouse Works is a division of Lighthouse Central Florida (LCF)—Central Florida's only private, nonprofit agency offering a complete range of services to people in our community living with sight impairment. Lighthouse Works is an AbilityOne affiliated agency associated with the National Industries for the Blind (NIB) and RESPECT of Florida.
Lighthouse Works has immediate employment and training opportunities for individuals who are legally blind. With our new south Orlando contact center set to open shortly, it is an exciting time to be in the customer service sector. Don't live in Florida? That's okay, Lighthouse offers qualified reps the option to work from home!
I know first-hand how difficult it can be to secure meaningful employment as someone living with vision loss. Before I came to Lighthouse Works, I received employment services training from LCF where I learned how to use screen-reading software like JAWS and other access technology to help me better perform in a work environment. I also learned the critical skill of marketing myself to employers. Soon after I completed these courses, I was lucky enough to find a civilian position with the local police department.
After a couple of years challenging myself in a role that was new to me, budget cuts eliminated my job and I was again unemployed and actively looking for work. It was tough trying to make ends meet and support a family. It was incredibly frustrating hearing how qualified I was from potential employers, but then not being offered the position.
Then in 2011, LCF launched Lighthouse Works as a subsidiary corporation with a double bottom line:
Create competitive employment for people with blindness and low vision
Generate net revenue through small business lines to support LCF's core mission of living, learning and earning vision loss
I was part of the original contact center staff that helped launch Lighthouse Works. Today I help design, develop, administer and evaluate training programs in connection with the contact center's goals. I'm responsible for ensuring a service oriented and professional working environment by coaching, training and motivating my team members – both sighted and those living with vision loss.
If you'd like to be a part of our team and you:
take pride in providing excellent customer service
have a working knowledge of MS Office products -Word, Outlook and Excel
have demonstrated the ability to deliver Quality with Productivity outcomes
are a multi-tasker who is able to communicate verbally and in writing with simple, easily understood language
are adaptable to changing environments
are a problem solver who identifies issues quickly so you can present timely solutions
…then we'd love to hear from you. Previous call center experience and Spanish fluency are pluses!
Send your resume to jobs@Lighthouseworks.org .