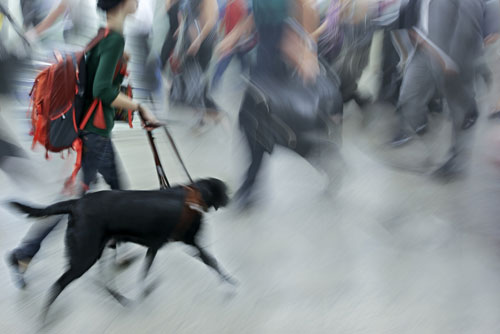 If you are using screen-reading software, you might have missed a phenomenal pun. Note the canine "P-A-W-S" as a replacement for "P-A-U-S-E." Tell me I'm not the only one smiling! Now on to business…
You are on the hunt for a stellar job, or already have a (phenomenal, mediocre, or highly-unfavorable-but-you're-keeping-it) position. Now you are considering a dog guide as an orientation and mobility tool. How well do the two merge: full-time work and a guide dog?
I personally have never used a guide dog as a mobility aid; I only have textbook answers. But I'm going to do you a favor and refrain from boring you with textbook answers. I enlisted the advice of three friends who are or have been employed full time and used guide dogs to aid in traveling to, from, and within the confines of work. Thank you to Toni King, Parker Cuddy, and Carlos Montas for sharing your experiences with me. Extra props to Carlos for bearing with a horribly intermittent Skype connection—Carlos lives in Florida and you may remember I live in Japan.
Without further ado and incessant rambling, I share with you…
The advantages of using a dog guide while in the employment process
You may feel more confident traveling with a dog guide than with a long cane. Confidence is important in job interviews and at work.
You may travel faster with a dog guide than with a long cane.
A dog guide can give you a social advantage. Talking about the dog can be an easy conversation starter for others, and some think you appear friendlier walking with a charming canine than a cane. Dog lovers especially will be drawn to your team.
You may feel safer traveling to and from work with a dog guide, as dogs generally deter criminals.
Walking with your dog guide will get you noticed and remembered. This can be very beneficial to your networking!
Dogs seem to make their owners a bit happier and less lonely. You get to bring your dog to work. And on business trips. (I'm singing Justin Bieber's "One Less Lonely Girl" in my head.)
The disadvantages of using a dog guide while in the employment process
It may not be feasible to leave your job while you and the dog guide are introduced and trained. The process takes an average of three weeks depending on the dog guide school.
Using a dog guide at a job interview makes appearing spiffy more difficult. Think dog hair on your suit and tracked behind your dog. Well, hey, that has an advantage—the lingering hair on the floor will remind the interview team of your presence until the next time they vacuum.
Try convincing your coworkers and clients to disregard the oh-so-adorable dog guide! It is best if the dog is not even receiving eye contact from potentially distracting onlookers. You may decide to share a fake dog name to avoid further distractions.
It can be inconvenient to care for your dog at work—especially when it comes to setting aside time to locate an appropriate site for the dog to relieve himself.
If your job is in a facility requiring no floating hair (restaurant, bakery, manufacturing plant, etc.), the dog guide will need to be secured in an office or animal crate away from you for many hours per day. OR, you can invent a dog-sized hairnet, but this could be a canine traumatizer.
It's time-consuming enough to physically prepare oneself for work. Now add your dog's weekly baths and daily brushings to the list. While you can be relaxed with grooming guidelines for a pet dog, there is little room for relaxed grooming when your dog's cleanliness reflects your work habits.
Then there's office or work-site cleanliness. You may need to supplement the professional weekly office cleaning to vacuum and wipe away dog hair.
Dog odor. Enough said. Actually, I have to say one more thing. Dog odor and dander can be a deterrent for your allergic or sensitive-nosed potential clients.
You may wish to connect with guide dog handlers for further insight. Consider posting a few questions on the CareerConnect Message Boards. For more information on guide dog use, you can read AFB VisionAware's article: Dog Guides for People with Vision Loss.