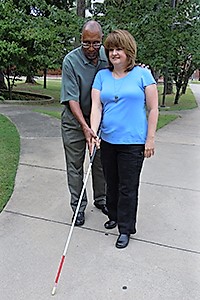 It's a lighthearted title, but it's not a lighthearted matter.
If you are blind or significantly visually impaired and have minimal Orientation and Mobility (travel) skills, you have a choice to make. You can attend a residential program and/or pursue local training to learn:
Cane techniques
Route planning
Problem-solving skills
Techniques for crossing streets, and
The use of public transportation
Or you can choose to dismiss the need for such skills.
The implications, you see, are quite significant. Not only is proficient community travel a predictor of successful employment, but it is also the means by which you can proactively access your social circle, the great outdoors, your neighborhood attractions, and your personal ambitions.
Alternatively, choosing to delay the acquisition of Orientation and Mobility skills may mean heading in the direction of social isolation, unsafe travel, postponing goals, and ultimately an affected mental health.
Have you determined it's time to pursue Orientation and Mobility training? After contacting a Certified Orientation and Mobility Specialist, you can:
Establish a realistic vision of yourself traveling independently. What are your aspirations? Where will you go? What will you do? Having these answers will give you the energy and motivation to stay committed to your training.
Determine one personal goal to work toward at a time. Maybe your first goal is independently checking the mail, strolling the neighborhood, learning the layout of your entire workplace, traveling to work by bus, purchasing a small gift for your sweetheart at a local store, or making your son's baseball game.
Take the initiative to practice. Discuss with your Orientation and Mobility Specialist a specific plan to practice your newly learned skills. If he or she gives you a green light for your plan, follow through.
As you become proficient in travel skills, become the "travel guide" for group or family outings. You can plan ahead to provide directions for a driver or lead a group to a restaurant using public transportation. You will gain confidence and relieve tasks from others. Read about Ross Silvers for motivation.
Now is the time. This is the year. Make the call; pursue the vision; take initiative; and get proficient. Get your dancin' shoes on and rock around that tree for good.
---
AFB Holiday Hits
These Cover Letter Secrets [Jingle Bell] Rock! Get Your Resume Noticed As a Job Seeker Who Is Blind or Visually Impaired
My Only Wish Is to Better My Weaknesses As a Job Seeker Who Is Blind or Visually Impaired
It's Beginning to Look a Lot Like Time to Sharpen Your Social Media Skills As a Job Seeker with Vision Loss
Do You Hear What I Hear? How to Master the Phone Interview As an Individual Who Is Blind or Visually Impaired