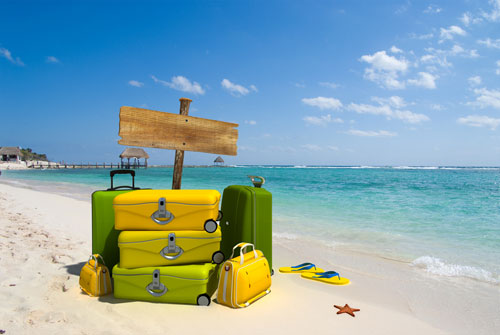 It's the 22nd of June and the dog days of summer are officially here! Bring on the mosquitos, barbecues, beach sand, air conditioning, flip flops, heatwaves, and for some employees, vacations! While many working citizens who are blind or visually impaired use the summer months to take time off from their jobs, not everyone is able to. Maybe it's a lack of paid vacation days or the extra money needed to travel. Whatever the reason, it can be challenging to stay focused at work during the summer months when you'd rather be at the beach, lounging by a pool, or visiting your family in the mountains.
Being productive at work when business is slow, and it seems like you are the only staff member at work each day, is as important during the summer months as it is during the rest of the year. Regardless of the dream vacation you'd like to be on, the office is still open, and work needs to be done! Most importantly, your employer's expectations will not change during the summer months; you will be expected to keep your productivity level up. How can you accomplish this as a person with vision loss?
Take Responsibility for Your Productivity at Work by Using These 5 Tips
Start by shifting your perspective. Instead of thinking, "I have to work all summer," try thinking, "I get to work this summer." Yes, a vacation would be nice, but if taking one is not a part of your summer plans, viewing your circumstance in a positive manner can be a good step towards staying productive at work as an employee who is blind or visually impaired.

Ask your supervisor if you can take on additional work or the specific responsibilities of colleagues who will be on vacation. Not only could you create an opportunity to learn more about another position and thus add new skills to your current skill set, but you could create a reputation for yourself that reflects someone who is a team player and eager to have more responsibilities. In addition, look for tasks that may not always get done such as unjamming the copier or cleaning the coffee pot. Performing these extra tasks might help you prove you are ready to advance in your career.

Prioritize your goals and responsibilities for the summer months and work ahead on projects which may be due in the fall. Meeting deadlines early can help you improve your annual work performance appraisal.

Don't dress too casually. Doing so could impact your mindset. If you continue to dress professionally, it will be easier to stay in the "working" frame of mind. Even though your sandals, jeans, and t-shirts are tempting to wear, keep dressing for the job you want, not the job you have.

Find time to unplug on the weekend by planning activities you enjoy. By giving yourself a reward to look forward to on the weekend, it will be easier for you to focus at work during the week. In fact, the benefits of relaxing during the weekend are similar to those when you actually take a vacation.
At the end of the summer, reflect on your productivity as an employee who is blind or visually impaired. Which will best describe your summer work days? Lazy days or productive days?
Succeed at Work This Summer
Maintaining Your Job and Succeeding at Work
Building Positive Work Habits: The Perfect Worker