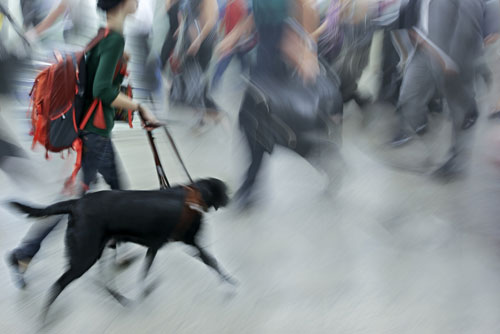 How does a person who is blind travel to work?
People who are blind travel to work using Orientation and Mobility skills and tools. Some individuals who are blind or visually impaired prefer using long canes as they tap their way to the bus stop and office. They don't want the commitment of a dog guide, they aren't fans of dogs, or they simply prefer using long canes. Others may prefer a dog guide for the boost of confidence, as well as the companionship, increased walking speed, set of eyes, and "pep in the step" they say the dog provides.
Yesterday I had the privilege of touring Guide Dogs of Texas, one of America's 11 dog guide schools, and was very impressed. The staff was incredibly friendly, knowledgeable, and kind. They shared their enthusiasm for the pups; they shared their fervor for the mission of aiding the mobility of people who are blind or visually impaired; and they shared processes it takes to raise a dog guide. Are you ready to hear the process?
There's breeding and puppy rearing at the dog guide facility until the pups are weaned; there's puppy raising and basic training from volunteers in the community until the dog is 12-18 months of age; there's approximately six months of intense, daily training from professional dog guide trainers, and volunteers who "board" the dogs in their home every night; and there's matching and training the dog and handler (person who is blind or visually impaired) to work well as a team. That's an approximately two year process.
"Litter G" was in the first stage of the process, living in the "nursery" of Guide Dogs of Texas and beginning the weaning process. They were eight weeks old; their chubby, blonde-haired bodies and wet noses were all piled together. Cuteness overload.
Each "Litter G" puppy raising volunteer is standing by, waiting on a phone call, ready for a year-long commitment of caring for the dog, teaching basic commands, and the extremely important task of socializing the future dog guide. Socializing involves taking the dog all over town on a regular basis in effort to desensitize the dog to the likes of restaurant buffets, flying squirrels, children with Cheetos in their plump hands, and noisy neighborhood dogs.
I may as well take this time to say: If loving on, caring for, and socializing a young dog-guide-in-training sounds like your cup of tea (as it does mine), contact your nearest dog guide school to see if you are a good fit. Yes, you will miss that dog fiercely when he goes for training and handler-matching, but you'll always carry with you the joy of providing a mobility aid and beloved companion for the handler.
Next year "Litter G" will receive extensive training to learn (by positive reinforcement, think praise and dog cookies) to avoid obstacles for the handler such as low-lying tree branches and garbage cans; to learn to stop when approaching stairs or curbs; to learn to find the door of buildings; to learn to follow commands; and to learn to intelligently disobey commands if it means avoiding an oncoming obstacle.
Each dog in "Litter G" will then be paired with a skilled adult traveler who is blind or visually impaired. Compatibility will be assessed by walking speed and even general personality connection. The teams will learn to work together safely and effectively.
Want to know more about dog guides? To learn more about the perceptions vs. reality of using a dog guide as a mobility aid, read Dog Guides for People with Vision Loss. To learn about the advantages and disadvantages of dog guides, read Let's Paws to Reflect: Dog Guide Use in the Employment Process.