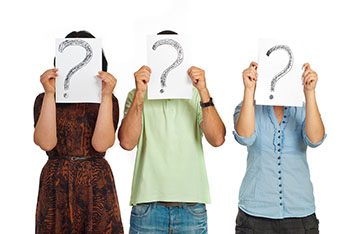 Does the thought of someone asking you what you do for a living fill you with anxiety, stress, or embarrassment? If you're currently unemployed, I imagine you'd like to avoid answering the question or change the topic of conversation. This might be especially true if you are at a social event with others who are employed and (boastfully) exchanging answers to the popular ice-breaking question, "What do you do for a living?"
Working matters to us all; not only to sighted people but also to individuals who are disabled, including blindness and visual impairment. Holding a job contributes to our self-identity in the world, gives us purpose, increases our self-esteem, facilitates a sense of belonging, and provides financial rewards. However, (according to the U.S. Bureau of Labor Statistics) 64 percent of working-age adults with vision loss (ages 16 to 64) are not actively looking for work (not in the labor force).
If you can't answer the question, "What do you do for a living," is it because you haven't been looking for a job? If you haven't, I encourage you to do two things:
1. Answer the question. The next time you are asked, "What do you do for a living," take advantage of the opportunity to say, "I'm currently unemployed but am actively looking for a job as…." Squeeze this "lemon (or sour)" question about your work life and make some "sweet lemonade" by talking about the new opportunities you are seeking. Communicate the value you would add in a workplace and get on the person's radar!
Who knows? Your new acquaintance may be hiring or know someone who needs a volunteer. Need I remind you, a volunteer position can turn into a job? As awkward as it may initially seem, it's time to put your pride aside and network enthusiastically with others about your availability for employment. You may just find a hidden job opportunity.
2. Evaluate your situation. Why aren't you looking for a job? Perhaps it's circumstance, choice, or lack of motivation. It shouldn't be because you are blind or visually impaired. Make a list of reasons why you are not actively searching for work. For each reason, identify a solution which will help you get in the workforce. Following are a few reasons you may have on your list and some suggestions for eliminating each reason.
Reasons Individuals Who Are Blind or Visually Impaired Are Not in the Workforce
I'm afraid I will lose my Social Security Benefits (Medicare/Medicaid and cash benefits). Are you aware the Social Security Administration offers incentives for beneficiaries to go to work while keeping their Medicare or Medicaid? If you would like to increase your earning potential by getting a job, the Ticket to Work Program is your answer.
Since I lost my eyesight, I do not have the technology skills I once had. Contact your state's vocational rehabilitation agency and apply for services. If eligible, you may receive services to assist you in reaching your employment goal which may include instruction in access technology skills.
I did poorly during my last job interview, and my confidence is gone. Begin the process of regaining your confidence by reviewing interview tips. Further hone your interview skills by signing up to take CareerConnect's free training course, The Job Seeker's Toolkit.
The advertised positions are temporary, and the pay is low. Reconsider passing on temporary or entry-level jobs. Being employed in any job will help increase your opportunities to network and learn new skills.
I don't know anyone who is blind or visually impaired who is employed in the occupation I'd like to hold a job. Connect with a mentor who is blind or visually impaired by registering with CareerConnect's Mentoring Program. Once registered, you will gain access to hundreds of professionals who are blind or visually impaired who can give you valuable advice about searching for a job. Find additional inspiration by browsing Our Stories to read about people who are blind or visually impaired and succeeding at work.
I don't have a method of transportation. Could ride sharing or other transportation options such as paratransit or hiring a driver be the solution?
I believe you are capable of working and contributing to our society—you should too. The longer you wait to restart your job search, the harder it may be to get back into the workforce. Now is the time to bring change to your life. I'm here to encourage you to do your part, but at the end of the day, you are responsible for your job search.