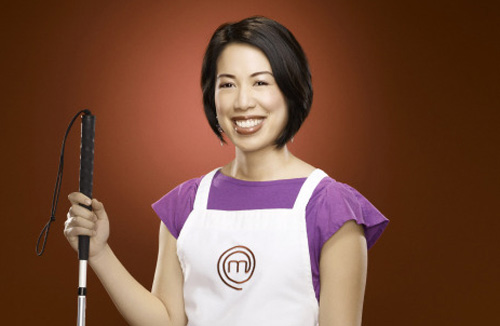 Over the past two years, you have seen a number of posts from me about the talented and amazing Christine Ha, winner of the FOX Network's MasterChef Season 3, New York Times bestselling author, and co-host of "Four Senses." Well, I have wanted to give you an update for a while now. I took the opportunity to ask her when seeing her in-person at the Helen Keller Achievement Awards this past June. Christine is busy preparing for the start of season 2 of her show, "Four Senses," which is a television show in Canada. I hope this show gets picked up in the United States in the near future.
When I first connected with Christine, MasterChef Season 3 was only a few weeks in. I felt lucky to connect with her and spread the word about this fine example or role model for persons who are blind and all persons truly. She took the time to answer some questions for me at that point. As the show progressed, you saw the amazing cooking talent that is Christine Ha. She is not an amazing person who is blind, but an amazing and talented person. I was quite happy with the overall portrayal of her on the show.
In the past, I have sent her messages here and there to keep in touch and follow up. I was truly excited that AFB chose to provide Christine Ha with the Helen Keller Achievement Award, the highest honor provided by our organization. I can tell you that she is as poised in person as she is on television or during any interview. You can go back and read my initial interview with Christine, and I suggest you read the latest installment, as I catch up with her about her life post MasterChef Season 3. Read the latest interview, Catching Up with Christine Ha, New York Times Best Selling Author, Television Show Co-Host, and Winner of MasterChef Season 3.
Related Links
We were delighted to come across another recent interview with Christine Ha, in which she shares what she's reading lately, what she's writing, and some great tips for people who are newly blind and are still shy around the kitchen. Christine urges people new to vision loss to experiment in the kitchen and not to be afraid of making mistakes. "Yes, play it safe at the beginning by having a sighted person around to help. But you only get stronger by making and learning from your mistakes."
Shortly after she went on to win that season of MasterChef, APH CareerConnect interviewed Christine about her career goals, her training in blindness skills, and the assistive technology she uses in daily life.
The American Foundation for the Blind was delighted to honor her this year with a Helen Keller Achievement Award, established to acknowledge extraordinary efforts and promote the achievements of individuals and organizations that have improved quality of life for all people with vision loss.
If you or someone you love are new to vision loss, be sure to visit the AFB Directory of Services to find a local agency that can help train you in safe cooking techniques after vision loss, and visit VisionAware to find more tips for blind cooks, including a video showing some important techniques for "cooking without looking." You can also find tools for cooking independently in our product database.
Follow Christine on her blog, TheBlindCook.com.