Two days ago, I returned an item to a retail store and had the pleasure of being assisted by an employee who was deaf-blind. Coincidentally, this week happens to be Helen Keller Deaf-Blind Awareness Week. I seized the opportunity to observe the employee work and immediately felt proud of him and thankful to the retail store for giving him the opportunity to work. Not only was he earning a paycheck, but he was essentially demonstrating to everyone in the store that individuals who are deaf-blind can be successfully employed in the workforce.
As I stood in line, I compared his actions to the non-disabled employees in the store working. He exuded confidence in his abilities to assist each customer. His smile and effective communication skills using sign language were welcoming to all and embodied everything good customer service represents. It was even more obvious he enjoyed his job, took pride in his work, and seemed genuinely excited to assist each customer as they approached him to check out.
The work trait I observed that I appreciated the most from the employee was the strong work ethic he appeared to have. He was hustling, and his line moved a bit faster than the others. Yeah, maybe I was internally cheering for him as I moved up in line, not only because I was in a hurry, but because he signified to all of the customers and his colleagues that having a disability does not have to limit a person's participation in the working world.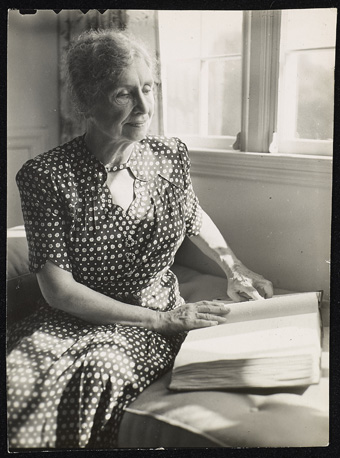 Since Ronald Reagan designated Helen Keller Deaf-Blind Awareness Week over 30 years ago, organizations across the U.S. have commemorated Helen's achievements as a person who paved the way in our communities and the workforce for persons with deaf-blindness. Helen is the world's example of how individuals with both a loss of vision and hearing can obtain, maintain, and advance in employment. She was the first deaf-blind individual to graduate from college with her Bachelor's Degree. This was 113 years ago! Ninety-three years ago, she obtained employment with the American Foundation for the Blind and worked for the organization for over 40 years.
Helen achieved her educational and career goals decades ago without the resources that are available in today's world to educate and support persons with deaf-blindness in achieving the same success in the workforce. Why then was it such a rare occurrence for me to see an employee with deaf-blindness working? It shouldn't be.
Benefits of Employing an Individual with Deaf-Blindness
If you are an employer reading this blog, consider giving a deaf-blind individual an opportunity to join your team.
Although deaf-blindness may imply a total absence of vision and hearing, this is not the case with most individuals who are deaf and blind. Many individuals who are deaf-blind have some useable vision, some useable hearing, or both.
Individuals who are deaf-blind can learn strategies to work around the challenges posed by their hearing and vision loss. With the use accommodations and assistive technology, individuals who are deaf-blind can be employed in careers across all industries of work.
Individuals with deaf-blindness are reliable employees, and in many cases, studies show workers who are disabled have an overall higher job retention rate.
Businesses that employ persons with deaf-blindness may receive tax credits or other incentives.
Hiring an employee who is deaf-blind will bring diversity to the workplace.
If you are currently unemployed as a person who is deaf-blind, what action you will take to commemorate the legacy Helen Keller left you? Don't let your deaf-blindness limit you or become a barrier to employment.
Employees who are deaf-blind, thank you for being in the workforce to continue Helen's legacy. You see, her work was important, but yours is equally important and as significant. Not only do we celebrate Helen this week, but we also celebrate you and your accomplishments as you continue to pave the way for all persons with disabilities in the working world.
Learn More About Helen Keller and Employment