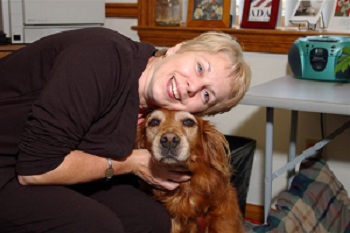 If only we could write an eloquent thank-you to our service animals for Guide Dog Appreciation Month; let them know we appreciate their assistance and the freedom of independent travel the guide dogs enable. Maybe we'd discuss the smiles they put on our faces, the heaping confidence they provide, the instant-connections with others they facilitate, and the off-duty companionship we adore. If only…
But if we did (and that's a hearty "if"), I think this is the response your guide dog would provide.
Quotes from Your Guide Dog
"You're thanking me?! I should be thanking you. I see those neighborhood pets (and I didn't fall for the drama in 'Secret Life of Pets'); those pups stay put…b-o-r-i-n-g, if I do say so myself."
"I was made for this stuff! My head's held high for a reason."
"Not only do I get to be by your side all day, but I am also led throughout town. You take me on the bus…Oh, the bus! The hum of the engine puts me to sleep. After walking, looking for overhanging trees, dodging obstacles, searching for doors, following directions, and exerting all my effort to ignore squirrels, I love the bus-nap."
"My other favorites are the malls, restaurants, weekend outings, and your dear coworkers; I could go on and on."
"Let me get to the point. You may think you need me, but the truth is I need you."
"So thank you, my good human. I've heard you say it and I agree, we make quite the team."
Guide Dog Appreciation Month
On behalf of Guide Dog Appreciation month, we acknowledge your gratitude for your guide dog and your guide dog's gratitude for you. What a team.
For sure and for certain, forgo the note…opt for a meat treat; your guide dog will feel the love.
And I have a feeling we have some readers who are considering a guide dog, allow me to pass along these resources:
A good day to you and yours. Hug those service animals for me!