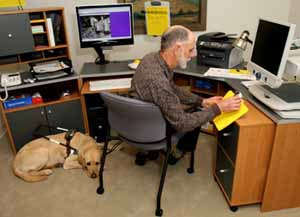 The same principles for safety and ease of access that you employ at home can go with you into the workplace, and yet how many of us have really taken a look around the office with safety and efficiency in mind?
Here are some work safety tips to get you started:
If you have any usable vision, contrast, lighting, and other environmental features can make a big difference in how easily you move around and how safe you are in your workplace. Door trim that is dark to contrast with white walls, makes navigating a long hallway of office doors easier, and can help you feel confident that you have found the right door. A light colored jacket on the back of a dark office chair that usually blends into the dark carpet or office furniture, makes your chair easier to spot. Even changing a face plate on an electrical plug to contrast with the wall or the sockets makes plugging in an electrical cord easier.
The right lighting, most importantly, control of the lighting, in your work space is vital. Reduce glare with opaque lamp shades or window blinds. Lower light levels with adjustable switches. Or, remove bulbs from fixtures to lower brightness. Conversely, add lighting when needed. Under cabinet lights designed for kitchens work well under hutch top desk or book shelves. A desk lamp with a goose neck or articulated arm allows you to position the light directly on the task. You don't always need a brighter bulb, sometimes you just need the light source closer to the task.
Clear walkways of furniture and clutter to help prevent falls. Make sure boxes are stacked against walls and if temporary obstructions are necessary, make sure someone knows to tell anyone who is blind or has low vision about the precise location. Rugs or mats should be flat and secured to reduce the risk of tripping. Keeping cords out of walkways will make the fire chief very happy and make you safer at the same time.
And, organization habits that assist you in finding things you need quickly increases your efficiency on the job, and makes you a better worker. Know the path to emergency exits, not just from your desk, but from other areas such as restrooms, conference rooms, and your boss' office. If the power is out, you may be the one leading others to safety. Practicing good safety habits in the workplace is just plain smart.
Related Articles
A Checklist for Environmental Safety
CareerConnect Virtual Worksites: Accommodations for Workers Who Are Blind or Visually Impaired