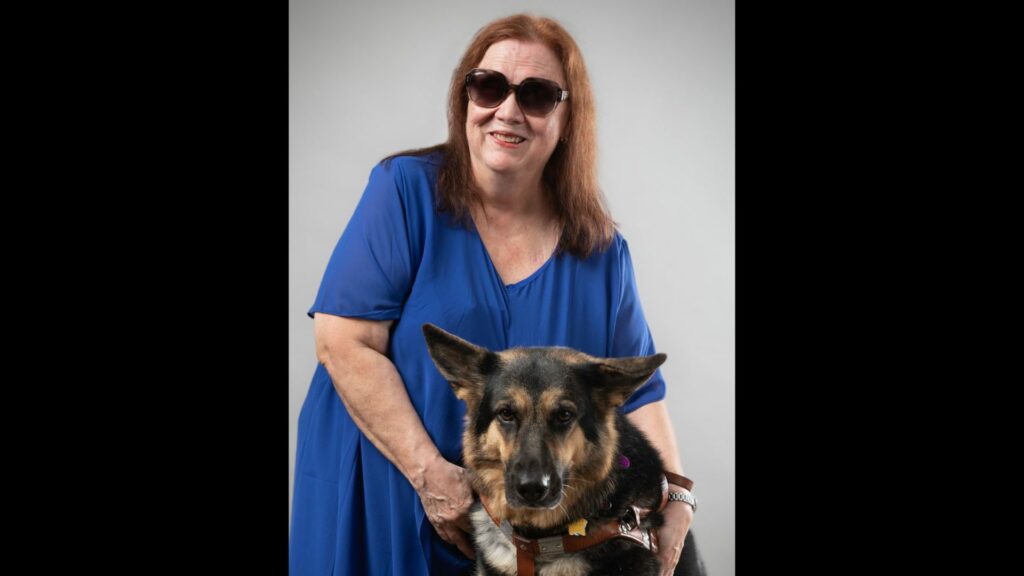 When you consider the distinguished career Kim Charlson, M.S. has established in the field of library science, it's hard to believe she ever wanted to do anything else. But the fact is that she began her college studies planning to become a disability rights attorney. In her last year in college, however, she began to wonder if that was the right path for her and decided to get a job to figure out what she really wanted to do.
Clearly, the universe had a plan for Kim, because that job was at the Oregon Talking Book and Braille Service, part of Oregon's state library. Kim worked there for five years and realized that the career she wanted was to run a library. To do so, she earned a master's degree in Library Science.
"I was really committed to being a library director in the braille and talking book network," Kim says, "because there wasn't anyone who is blind serving in that role – someone who knows what borrowers need and can keep their finger on the pulse of new developments."
Today, she's at the top of her field. Since 2001, Kim has served as executive director of the Perkins Braille & Talking Book Library, after 16 years as the service management librarian and assistant director.
Recognizing the benefits of early skills training
Kim lost most of her vision when she was 11 years old, due to complications of juvenile glaucoma, which wasn't diagnosed until she was about six years old.
"I didn't know that everybody didn't see blue halos around lights, which is an early warning sign of glaucoma," she says. "But I kept bumping into things, and when my parents took me to have my eyes checked, they discovered I had juvenile glaucoma."
Despite several surgeries, her vision deteriorated. Kim's doctor recommended enrollment in a school for the blind. She attended the Oregon School for the Blind until 9th grade – learning braille, cane skills, and other adaptive strategies. The school's philosophy was that students should attend a community school beginning in 10th grade, which Kim did.
"I had all these adaptive skills in my toolbox to start becoming an active, engaged part of my community," she says. "I think that really made a huge difference for me."
Today, Kim is completely blind and usually navigates the world with her dog guide, Idabelle. She uses a cane on occasion but believes dog guides have been a "wonderful addition" to her independence and mobility. Kim adds that the choice to use a dog guide or a cane is a very personal decision.
Building a comprehensive program for materials access
Kim is a strong proponent of braille literacy and adaptive tools.
"Braille is pivotal to what I do and my ability to capture information," she says. "I have braille displays on my computers, and I do my spreadsheet work with an 80-cell braille display in my office. It's phenomenal for spreadsheets because you can see across a whole lot of cells instead of just a few."
As executive director of the library, Kim's job is different every day, and she loves the variety. She manages a staff of 35 and a budget of almost $4 million. Five of those staff members run a program called iCanConnect, a Federal Communications Commission (FCC) reimbursement program that provides equipment and training to people who are deafblind so they can connect to phones and the internet.
The Perkins Braille & Talking Book Library is part of the National Library Service (NLS) for the Blind and Print Disabled, a program of the Library of Congress. Perkins partners with NLS to distribute talking books and braille books, but Kim has expanded the library's offerings.
"I've always believed we should do more than talking books and braille books," she says. "We have a recording studio and about 40 volunteers who record books, magazines – usually those of more local interest since we get others through the Library of Congress – and we have a braille production program."
The Perkins Braille & Talking Book Library provides materials to patrons across the state through the mail, or they can be downloaded by assistive technology users. They also provide braille materials as a fee-for-service for businesses, such as theatre playbills, and work with mainstream public libraries to support them in assisting people with disabilities.
What's more, Kim believes in hiring as many qualified people as possible who are blind or low vision. Currently, this includes her deputy director, a braille production person, an outreach specialist, and more.
Advocating for the global blindness community
Kim's advocacy extends beyond her work at Perkins. From 2013 to 2019, she served as the first woman president of the American Council of the Blind and has served as a national member of the Braille Authority of North America, the standard-setting body for braille in the U.S. and Canada. She is also the president of the North America and Caribbean region of the World Blind Union, and chair of that organization's World Braille Council.
"That's a more global role in making braille more universal, and we're working on developing electronic braille standards," Kim says. "We want to move the needle forward on electronic digital braille so it will be easier to produce."
Her advocacy also includes local organizations – and is central to nearly everything she does, circling back to her early dream of being a disability rights attorney.
"I have always thought that advocacy is really a life skill and a job skill because nothing's ever perfect," Kim explains. "Every time your company wants to use a new software package, you have to advocate for accessibility. But don't just advocate for yourself – position it as something that's a bigger problem than just yours. That's the most effective way to advocate for yourself and others."
Learn more:
Kim shared even more about her career experiences. Watch her Career Conversations interview: