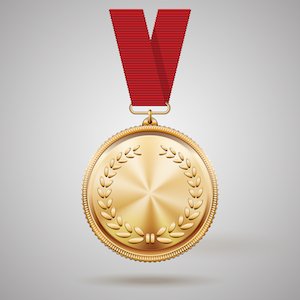 Watching the Olympics always inspired me as a kid. Maybe, just maybe, I could be an Olympic athlete someday. With the advent of the Paralympics, that possibility is more attainable for a person with a disability today than ever before.
Have you been following the Paralympics in Rio? The USA has won 49 medals, behind only China, Great Britain, and Ukraine. But, in what events could someone who is visually impaired hope to be competitive?
You decide. Will it be a sport designed for blind players like Goal Ball, or will it be an equestrian event? Is swimming your passion? How about judo or track and field? The point is, it's up to you. Getting and staying active is the first step for any athlete and the earlier the better.
Getting connected is the second step. The US Association of Blind Athletes has resources for many different athletic pursuits and connections to programs for kids and adults scattered all over the country.
Getting inspired is the third step. Look for athletes like Donte Mickens, a CareerConnect Mentor and a member of the US Men's Goal Ball team for many years. Donte knows what it means to persevere, a trait that is essential for his career as a financial analyst.
The next steps in the process are all yours to take. And, even if you don't plan to pursue the life of a Paralympian, you can improve your health by getting up, getting out, and moving more than you have in the past.
Where you go and what you do depends on where you are, which, if you think about it, applies to just about every aspect of life. In terms of physical fitness, athleticism and competitiveness, you're the best judge. If you've been active, played a sport, even succeeded in tournament play, and your sport is your passion, then maybe it's time to take the next step and seek the advice of those who can help you move toward a medal ceremony at the 2018 or 2020 Paralympics.
If you're like me, and sitting on the sidelines is as close to an athlete's life as you've gotten, there's more you can do. Check out fitness information for people with visual impairments and get moving. Blind Alive offers workouts designed specifically for visually impaired people at all levels of fitness.
The bottom line is physical activity is good for us, and if watching the Olympics and reading about Paralympic athletes has awakened your inner-champion, go for the gold!