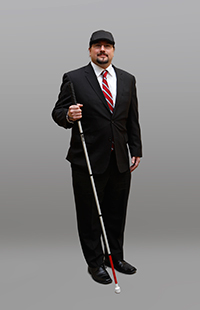 I am making preparations for the 2014 Council of State Administrators for Vocational Rehabilitation (CSAVR) and the National Council of State Administrators for the Blind (NCSAB) conferences in Miami. No, I am not packing my bathing suit and sunscreen; I am packing my suits, hats, white canes, and my game plan for the week. I am looking forward to connecting with people from different states and creating new connections for future partnerships, workshops, and lines for dissemination of resources. I love getting the inside scoop on the new innovative programming coming out of the states, and these conferences are the place to find out what states are initiating.
The services provided by these agencies are of extreme importance and need to be protected. The vocational rehabilitation agencies provide assessment, training, resources, linkages, and case management around helping individuals who are blind or visually impaired to get employment ready. You can find resources on protecting specialized services on AFB.org.
In addition to the value of these conferences, I often meet a lot of leaders from the disability service community who I respect for their work to improve opportunities. Among them are a number of state administrators, including David DeNotaris from Pennsylvania, John McMahon from Maine, and Dan Frye from New Jersey. On the national level, there will be professionals such as NFB's Fred Schroeder, who I am always blown away by, as he provides his updates in a very digestible format. All of the individuals are blind or visually impaired, and much more than that, they are advocates and role models. If you are interested in connecting with a respected leader in your field but can't make it to a conference, check out APH CareerConnect to find mentors who are blind or visually impaired. Check out the Make Connections section today.
I hope to see all of you at the CSAVR and NCSAB conferences in Miami. Remember, you will not find me by the pool, as I will be listening, learning, and connecting with the administrators from the different states. If you are at NCSAB, check out my presentation on Thursday.