The idea sounds pretty heavenly, doesn't it? Working from the comfort of your own home without the hassle of commuting with a visual impairment. Yes, just about everybody likes the idea of it!
While I can see the appeal and I do think telecommuting is a solution for transportation issues for folks who are blind or visually impaired, I do not think it's the solution for all work-related issues for our population.
Regardless, it may be a good fit for you or it may be worth considering for a season. If this is the case, I bet you have many questions about the possibility of telecommuting as a person with a visual impairment. Below you'll find a list of frequently asked questions and my responses; if your question isn't there or if you have additional input, please utilize the comment section!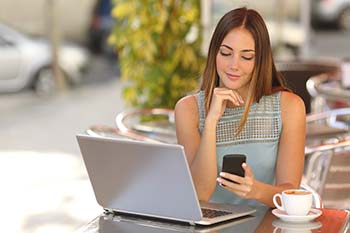 Frequently Asked Questions Regarding Telecommuting
I am employed on-site. Can I convert my job to a remote position? To think through the process of converting a current position to a telecommuting type position, read Telecommuting: Advice from Dr. Ron Milliman, Professor of Marketing at WKU and Private Business Entrepreneur.

Is there an agency who can help me, a blind or visually impaired person, find a work-from-home position? National Telecommuting Institute (NTI) is a nonprofit organization which identifies and develops work-from-home opportunities within government agencies and businesses, and proceeds to match them with Americans with physical disabilities whom they train.

How can I independently find a work-from-home position? o If anyone in your social network telecommutes, begin by asking if their business is hiring. Next, I would make cold calls to large service-type corporations such as insurance firms, mortgage brokers, stock brokers, real estate brokers, telemarketers, and answering services. Ask if they are hiring; be ready with a mini sales pitch on hiring you! Let them know how you will help them, and know (well) their mission.

Do you have any tips for a successful telecommuting experience? With advice on taxes to networking electronically, Forbe's 10 Tips for Working From Home has you covered.

What assistive technology may be necessary if I telecommute? While this depends on your line of work, I think you'll find your answer in CareerConnect's Virtual Worksite: Call Center for Blind Users. Please note it is common for call centers to use operational systems not accessible with screen readers. Arm yourself with knowledge of technology that enables visually impaired users to navigate call center operational systems.

How can I avoid a work-from-home scam? Read Work-From-Home Scams: How to Investigate Work-From-Home Job Listings.

Can you give me any advice about starting my own work-from-home business? I recommend Hadley School for the Blind's remote course, Self-Employment With a Minimal Investment, which will help you decide if self-employment is a realistic, wise pursuit.

Can you provide me with a success story of an individual who is blind who works from home? Read Empish Thomas' experience as a freelance writer who is blind. Ms. Thomas works from home, pitching and writing stories for newspapers and magazines.
Additional Resources for Your Employment Endeavor
Conducting a Successful Job Search
Resources You Haven't Thought of Before as a Person with a Visual Impairment