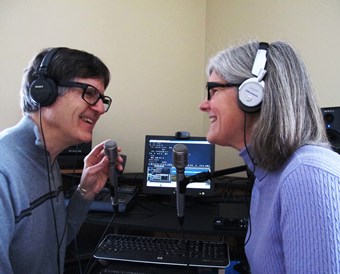 This is a blog post written by the hosts Peter and Nancy Torpey.
Eyes On Success is a weekly, half-hour radio show/podcast that covers a wide range of topics of interest to the visually impaired.
In the growing archive of over 200 episodes, one can find shows on new products and technologies, interviews with leaders in the blindness community, as well as human interest stories of visually impaired individuals with rewarding professional careers and fun hobbies.
The hosts and producers of the show are both retired research scientists with doctorates in physics. Although Nancy is sighted, Pete has been blind since birth.
Eyes On Success is aired on many radio reading services throughout the United States and Canada, streamed over several Internet services, and also available as a podcast or download.
One of the resources available on the Eyes On Success Website is a search feature that enables visitors to quickly and easily find episodes of interest in the show archives. Episodes in the archive can be searched by show number, topic, or keyword.
For example, if you are interested in shows about finding a job, interesting careers, or screen readers, just enter one of the strings "employment." "careers," or "screen reader" into the search field and hit enter.
You will then be brought to a webpage with a summary of shows matching that topic or keyword along with links to the audio and show notes for that episode.
The show notes for each episode can be particularly useful because they contain all of the contact information and links discussed in that show. Therefore, there is no need to be taking notes while listening to an episode—all of that information is contained in the show notes associated with a particular episode!
If you have any questions, send an email to:
hosts@EyesOnSuccess.net
To find out more about the show or the hosts, or to listen to or subscribe to the podcast, go to www.EyesOnSuccess.net.