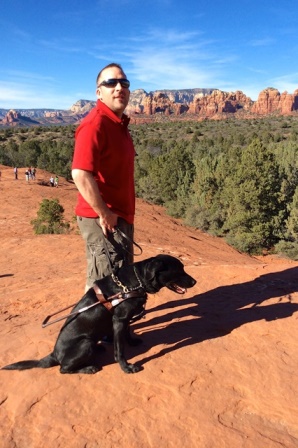 There is a saying which goes, "Those who can't, teach." But what if you are fully able and still want to pursue a career in teaching? The new saying should be, "Those who care teach." At least that should be the case for Brian Quintana.
Brian Quintana exceeds classroom expectations of a middle school teacher. Teaching English and Social Studies classes to sighted students, Brian is an educator who is blind. So what is it like being blind and maintaining an educator's position in the school system? APH CareerConnect had the chance to catch up with Brian, one of our outstanding mentors, in order for him to share his story.
Brian is a great example of a person who is blind or visually impaired working in an unconventional area of his field and beating the odds of doubt. To be sure, people with vision loss do go into education and make excellent teachers, administrators, instructors or professors for blind students or sighted adults. But very few are found controlling a classroom full of young, sighted students, especially middle school age. A walk through his daily routine highlights what it's like to be a teacher who is blind. After nine years of hard work Brian remains dedicated and passionate about his role in the classroom. And, daily, a byproduct of his work shows sighted students and colleagues alike that people who are blind or visually impaired can succeed in their chosen field of employment.
While enjoying his summer vacation like the rest of us Brian is also preparing for his return to the classroom. While "Back-to-School" may sound like it is only relevant to school aged children, Brian walks us through what having a career in the education system would be like.
So while you or your young ones are getting ready to head back to school, make sure to read Brian's story with your last bit of time off!