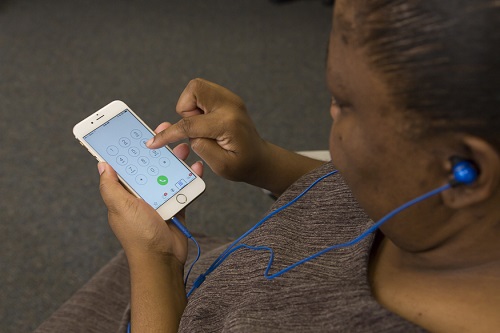 If you have an upcoming phone interview, you have come to the right place. I'd like to give you a blueprint that proposes how to best prepare for the occasion.
Here's where I'd start. Do you remember my Mildly-Awkward Poem Filled with Resources for Preparing for a Job Interview? Well, it may have been more than mildly awkward, and I do hope it never makes the Google search under my name, but it's a good place to get your bearings.
After identifying how to prepare for a typical interview with that-there awkward poem, I'd read David Ballmann's blog post on preparing for a phone interview as a person who is blind or visually impaired. Check it out or re-familiarize yourself with it. You'll gather tips such as dressing professionally even when you're not seen, wearing a braille watch (ahem, assuming you can read a braille watch), interviewing in a clean and quiet environment, talking on a landline instead of cellphone, using a hands-free headset, having water by your side, and taking notes during the interview.
Thank you, Mr. Ballmann.
I'd like to add five simple preparedness suggestions. After all, your goal is mastery.
Rehearse. I'm talking not only mock phone interviews, but also rehearsing the use of the mute button, rehearsing a quick Google search mid-call, rehearsing the technology before show-time, and rehearsing your smile and body language.
Create a bare-bones cheat sheet. Of course you should rehearse your answers to common interview questions just as fervently as you would for a typical interview, but it doesn't hurt to prepare a written, typed, or brailled word or two to jog your memory for a few important topics.
Have your materials, technology, and cheat-sheet ready at least ten minutes ahead of schedule. If the interviewer calls you early, you won't be caught off guard.
Tighten up your intro. The beginning of phone calls can be, well, awkward. U.S. News recommends picking up the phone with a "Hello, this is….". So state your name, tell them it's a pleasure to talk with them, and write down their names as they state them. Be ready to chit-chat if the panel is feeling chatty, and be ready to dive in with your succinct self-description.
Tighten up your closure. Thank the individuals by name for their time, re-state your enthusiasm for the job, and let them know you're looking forward to hearing back from them. After the call, send a thank-you email. If there was an important point you forgot to add in the interview, be sure to add it to your email message.
I'm confident you all have expertise to add. Please add any additional suggestions in the comments section below.
And after the interview, I'd love to hear how it went.
---
AFB Holiday Hits
Have Yourself a Merry Little Work-Related Celebration As an Employee Who Is Visually Impaired
That's a Wrap: Recap of the Top 10 AFB Holiday Hits for Career-Minded Job Seeker's Who Are Blind or Visually Impaired