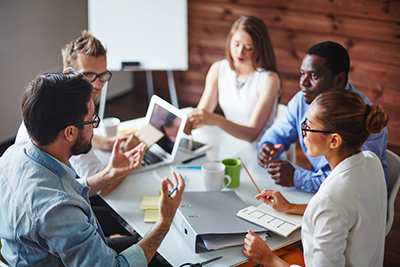 Do you have the qualities of a good employee? Before you answer this question, you probably need to know what qualities employers value. The new checklist in the Transition to Work: Program Activity Guide will help you self-evaluate the personal qualities you have that all employers look for in employees. Your teachers, family, and friends can also give you feedback on how they perceive you, but you must ask them to be honest to help you improve. It's not always easy to receive constructive criticism; however, you can learn a lot if others who know you well are willing to share. This exercise will also help you in an interview if the employer asks, "What are your best qualities?"
Knowing what employers are looking for is a big step toward developing yourself into a strong candidate for the job. You will gain important insights as to what is meant by well groomed, reliable, courteous, trustworthy, self-motivated, ambitious, and self-confident. It's one thing to say, "I am reliable," but it's another thing altogether to actually be reliable in the eyes of an employer. What qualities do you already possess? What qualities do you need to work to improve?
What's a Good Job for Me?
Have you asked yourself, "What jobs can I do as an individual who is blind or visually impaired?" If not, it's time to ask and it's time to start digging for answers. The first step is to find out what others are doing. Where do your friends work? What do they do? There are hundreds of entry-level jobs that teens perform. That's OK; you have to start somewhere. The Transition to Work: Program Activity Guide offers different suggestions, but you can probably expand that list to include jobs near your home, employers where friends or family work, as well as opportunities to work at school. Does your school offer a coffee bar service to students before school where you could help raise money for the band? You may not get paid, but you're working, you're helping, and you're gaining experience. Do it!
Evaluating what's involved in performing a job and comparing these requirements to your abilities is a vital part of choosing where to apply and for what job. Do your homework, ask lots of questions, and research job postings and information about employers on the web. Getting a job requires a great deal of prep work so get started now if you want to work next summer.
Building Your Resume
"I'm only 16, what can I put on a resume?" Good question. Hopefully, you've been active both at school and in extracurricular activities. You may also have worked as a member of a team on a project or played a sport. Think about the things you have done that are good examples of your best qualities which you have already identified. If you don't have a lot of paid or volunteer work experience, fill your resume with your best accomplishments and activities as well as what you have done for your family that could translate into a task on a job.
Need help preparing a resume? The Transition to Work: Program Activity Guide can help with that as well! This lesson will navigate you through CareerConnect's Job Seeker's Toolkit; help you gather information for a Personal Data Sheet; and will guide you through completing job applications, a very necessary activity when looking for employment.
What Information Should I Include?
This lesson will also help you organize the specific information you will need on your resume. Some employers only want a resume, some want both an application and a resume, and some will only look at the information on an application. You must be prepared to have everything needed on both. Don't assume that the hiring manager knows you worked as a dishwasher at a local restaurant just because it was on your resume. Your resume could have been separated from your application somewhere along the chain of command and all that is representing you now, when the decision about who to interview is being made, is the application you filled out in a hurry and didn't make sure you had everything just right.
Formatting a resume and learning to upload it is going to require strong computer skills that you may or may not have. Work with your teacher to get access to and help with using a word processing program with the ability to center, bold, and change font sizes so your resume will stand out in a crowd. You don't want typographical mistakes, grammatical errors, or anything that could be perceived as a reason not to interview you. Most importantly, be honest. If you worked nine months, don't exaggerate and say you worked one year. Especially when you are young, knowing the starting month and ending month for a job you held is vital. If one year of experience working with children is a job requirement, then the two summers you worked at a day care center and six months of work in a children's program at the recreation center adds up to one year. Make sure your application and resume prove that you meet the requirements on the job posting.
Keep your resume up to date as you earn accolades at school, complete a summer job, finish an internship, or develop a new skill. You may also need to customize your resume depending on the type of job you want. A resume that emphasizes your childcare experience may not help you get an interview for a job waiting tables. However, your experience as a Scout, waiting tables at fundraising events like pancake breakfasts and spaghetti dinners will. Treat your resume as a living document, back it up on a thumb drive, and print it or braille it, just in case!