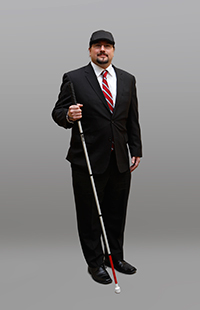 Diversity and inclusion within corporations has become an important effort around the United States, and I want to take a few minutes to address this topic. As you probably already know, I am the American Foundation for the Blind's CareerConnect Program Manager. In this role, I manage this program with a great team, but I also travel the country doing workshops for youth and adults who are blind or visually impaired and the professionals who work with them. I feel lucky to also work with the United States Business Leadership Network's (USBLN) Career Link Student Mentoring Program. The USBLN offers employers a great network of employers who embrace the hiring of persons with disabilities, veterans, and others whom face obstacles. Their membership organizations celebrate and embrace diversity. The USBLN provides resources, tools, and connection. In addition to all of this, I am an individual who is blind or visually impaired. The above gives me an interesting perspective on job seekers who are blind or visually impaired and the companies seeking employees.
I have to say that businesses are increasingly searching to hire persons with disabilities, and looking to include them in their culture. Diversity and inclusion brings many opportunities for job seekers who are blind or visually impaired. The truth of it is that diversity and inclusion is about making sure you have access to the best talent possible, which is a pretty straight forward and positive idea.
Companies have been encouraged to do so in many manners, including for Federal Contractors and Subcontractors who are working toward utilization goals created through Section 503. For Veterans, this would be due to VEVRAA (Vietnam Era Veterans Readjustment Assistance Act). The fact is that there are other reasons why companies are seeking out persons with disabilities.
Businesses realize that individuals with disabilities are an underutilized talent pool. Persons with disabilities often have to problem solve and adapt, and these skills translate to good employees. Successful people are able to problem solve on the job and in life.
Businesses realize that having a diverse workforce who represents aspects of their customer base makes sense. How will you address the needs of persons with disabilities without having individuals on your staff? People can study all they want about disability, but unless you have a disability and experience its impact every day, you don't truly understand. You can understand aspects, survey, focus group, and research all you want. Being an informed company means embracing your customer base.
A point that corresponds with the point above—persons with disabilities have spending power that is not often addressed through advertising until recently.
Past studies have reported that persons with disabilities stay in a position longer, which means less turnover and cost in the search and training of new staff. This could mean that persons with disabilities are not being promoted as often too, but that is for someone else to expound on.
Corporations and businesses with a diverse workforce create diverse ideas, and if large populations of people are not being included, business is missing out on these ideas and creative thinking.
I have seen studies from businesses about the atmosphere around the inclusion of persons with disabilities in the workforce, and many of these have stated about other employees reporting more satisfaction in their work, after the addition of a person with a disability. I can't speak for the validity of these reports, but I have heard the commentary from employee interviews around the United States.
I could provide many more points on this topic, but I would love to hear from you about your thoughts. Diversity of the workforce is only one aspect, as you have to make sure the organization is inclusive. Hiring a person with a disability is a great first step, but you want to make sure that individual is put in a situation with an opportunity for success. The American Foundation for the Blind strives to expand opportunities for people who are blind or visually impaired, and we believe that diversity and inclusion professionals have an opportunity to open those doors for job seekers who are blind or visually impaired. Review our Resources for Employers materials on APH CareerConnect today.