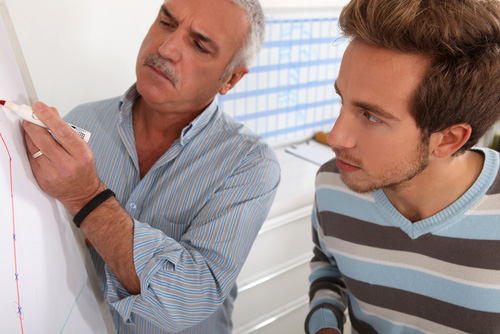 Thank you mentors! Today we celebrate our APH CareerConnect mentors for their dedication and continued support in the e-mentoring program! We couldn't do it without you! You have provided guidance, advice, and inspiration for students and job seekers who are blind or visually impaired. You have made us realize that we too can find gainful employment and succeed at work.
When I first started my internship at APH CareerConnect, I was amazed at how many mentors in over 300 different fields were offering their time and expertise to help job seekers. It has been a pleasure to talk with you over the phone, read your success stories, and share your advice with fellow students. By talking to you, I have learned so much, and I am sure I am not the only one.
So in honor of Disability Mentoring Day, I would like to thank some of the mentors I have had the opportunity to work with over the past year and a half, starting with none other than Joe Strechay and Detra Bannister. Joe and Detra have shown me the importance of having mentors. They have taught me so much throughout my internship, boosted my confidence, and helped shape my career path. I am grateful for their guidance. I would also like to thank those mentors who have shared their stories with me in the "Where Are They Now?" section: Becka deHaan, Larry Johnson, Amy Bower, Jim Koval, and David Block.
On behalf of all mentees, thank you! Finding a mentor can make all the difference during a job search or at your first job. You can learn from first-hand experience what it takes to succeed at work, develop connections with professionals, have access to networking opportunities, and discover potential job openings. Even more so, APH CareerConnect mentors can provide tips on how to address your vision loss with a potential employer and how to make adjustments to perform your job as an employee who is blind or visually impaired.
Mentors, you have encouraged us. You have shown us what is possible when we put ourselves out there. And for all that you do, we are thankful. We appreciate you and your continued support and participation in APH CareerConnect.
Mentees, be sure to thank those mentors who have impacted your life. Show them your appreciation by simply saying, "Happy Disability Mentoring Day!"
Don't have an APH CareerConnect mentor? You are missing out! Connect with a mentor today!