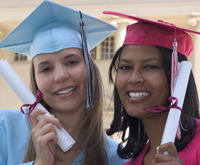 Ladies and gentleman of the jury, I recognize you have a weighty decision upon your shoulders—do you or do you not pursue a postsecondary education to include a vocational/trade school or traditional college? Perhaps you're soon to complete high school and you have the "work vs. additional school" choice on the horizon. Or maybe you went straight to the workforce after high school and you wonder if now is the time for a degree. Regardless, as you are aware, the decision isn't "one size fits all" and depends on your career goals. To help you make a wise decision, might I suggest an investigation?
Investigate the Effect of a Degree, Made Easy Using New Article
Begin by investigating the research-based impact of a college degree, including a trade school certificate or diploma. Good news—CareerConnect has made this easy! Our newest resource is a compilation of data exploring how a college degree impacts employment rates and earnings, which you can find here: "How Does a College Degree Impact Your Working Future If You Are Blind or Have Low Vision?"
You'll find that obtaining a degree or postsecondary diploma of any sort decreases your chance of unemployment and (in general) increases your earnings potential.
Investigate Your Desired Career Field
Next, to help you determine a specific career field and the appropriate degree or diploma for your goal, utilize the following resources:
As you investigate your employment options and pursue a degree, know that CareerConnect is here to support you on your journey.
Additional Resources to Help You Have a Successful College Experience
Counting Down to Graduation: March, Furthering Your Education
Are You Prepared to Succeed in College as a Student Who Is Visually Impaired?
Rights and Responsibilities as a College Student with Vision Loss