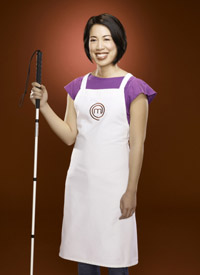 If you don't remember, I wrote a lot about the FOX Network MasterChef Season 3 winner prior to winning and after. Christine Ha was the contestant who was blind or visually impaired. Christine Ha lives in Houston, Texas, and she was finishing up her graduate program in creative writing. She is also a blogger and a regular through social media.
You might have read the APH CareerConnect interview with Christine Ha, but if you didn't, you should check it out. Well, Christine Ha released her cookbook a few weeks back. I took the opportunity to check it out after viewing the episode from MasterChef Season 4 where they plugged the book. I downloaded it on my Apple iPhone after the show and read it the next evening. Yes, I read a cookbook for fun. Chef Gordon Ramsey wrote the foreward for Christine's book. I thought his piece was nice and seemed to frame it well.
I watched season 3 in detail, I had been awaiting her cookbook because I loved the fusion of Asian cooking that she utilized throughout the competition. The cookbook featured a number of the dishes she created during the competition, and obviously some that were not. While reading the cookbook, there were a few dishes that jumped out at me. But, that was not all that stood out. Christine put a lot of herself and her life into the cookbook. She wrote about what shaped her cooking and referenced instances from the show.
If you like the idea of spins on pizza, soup, and fabulous meals, then you will not be disappointed. Check out Christine Ha, MasterChef Season 3 winner's cookbook, Recipes from My Home Kitchen: Asian and American Comfort Food and let me know your favorite recipe! Christine, thank you for sharing your life and love of food and cooking with us!
---
For readers who are interested in exploring all of the different fields that people who are blind or visually impaired are employed in, check out the Make Connections area of CareerConnect to find a blind or visually impaired mentor in a huge variety of careers.