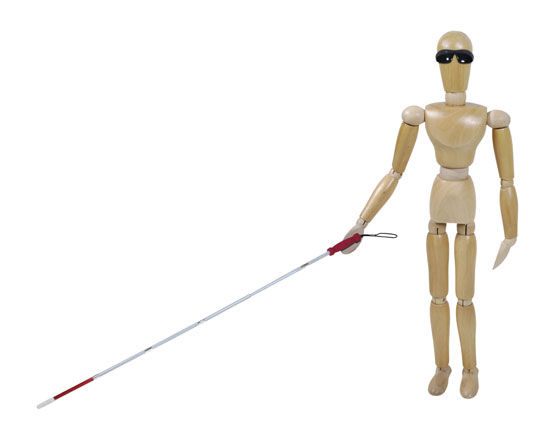 White Cane Safety Day or White Cane Day is celebrated on October 15, and I felt this was the perfect time to tell you about traveling as a person who is blind of visually impaired. I have a white cane nicknamed "Slim" that travels with me everywhere. It isn't always easy, but I wouldn't do it any other way at this point in time.
I have been a cane traveler for a number of years now, and it isn't always perfect. I choose to use a heavier and more durable white cane as I travel a lot and my cane takes a beating. Recently, I was traveling through Grand Central Station in New York City when I hit something with my cane. There was no noise, so I felt around with my cane to determine my way around this object. At this point, a woman spoke up as she happened to be the object I had maneuvered around. She began to yell that I had hurt her with my cane. I responded, "Oh, I'm sorry; I really didn't mean to do that." She yelled, "You hurt me; you hit my ankle." I apologized again, but she continued: "You really need to watch out, you can hurt someone." Holding up my cane, I said, "Madam, I am blind and I try my best, but watching out is a literal impossibility." She continued to yell at me, even as I apologized again.
After a few minutes and feeling quite embarrassed, and fighting the urge to make some sarcastic comments, I decided it was time to just walk away. Truthfully, what did this woman want me to do? Stay at home instead of working, living, and paying taxes? This event hurt my feelings a bit, but you just have to keep on keeping on.
I spend a lot of time traveling, meeting with people and business persons. I am so grateful for my life, family, work, my training, and "Slim." I wouldn't be able to do what I do as a person who is blind or visually impaired without my white cane and the training I have received. Having a disability—or even multiple disabilities if you throw in a learning disability and a bit of attention deficit—I try never to take things for granted. For example, if I am in a new location, I can't just see where the closest bathroom is, but maybe I can listen and hear the toilet flush, faucet running, or the hand dryers blasting. There are always other ways to look at things. My white cane is one thing that makes my life easier. My confidence in using it is something that no one can take away.
Be Aware!
People who are blind or visually impaired either cannot see, or cannot see well. So, please don't lecture them when they don't see you.
The white cane or long white cane doesn't pick up low-hanging obstructions such as tree branches, poles, and obstacles at head level across sidewalks. Please keep your branches trimmed around the sidewalk, as some of us are around 6 feet tall or even taller.
Parking on the sidewalk or across the sidewalk obstructs the sidewalk, so you might end up with a ding from my white cane on the side of your car.
On a related note, don't pull up into a crosswalk because I can't see your car there. If you catch me on the right day, I just might walk right into your car with my sturdy cane swinging. Also, forcing people to walk into traffic is not cool!
Don't leave things across the sidewalk. The sidewalk is for walking, not storing your lawn equipment, bicycles, or motorcycle.
Read about the White Cane Law, which requires you to yield for persons who are attempting to cross the street who are blind or visually impaired. It is the law!
Remember that pedestrians have the right of way.
If you are using lawn equipment or a jack hammer near an intersection, please stop for a minute or two if you see that a person with a white cane is trying to cross the street. Otherwise, he or she might have to navigate a few blocks out of the way to find another route that is safer.
People who are blind or visually impaired use the sound of the surging traffic to cross the street at intersection. We first determine the control (stop sign, light, yield), and then we figure out the flow of traffic and how the intersection works. That's right—traffic is often a friend of a person who is blind or visually impaired!
Resist the urge to grab and drag a person who is blind across the street. If you want to help, introduce yourself, and say, "I was wondering if you would like some assistance crossing this street?" If they say "yes," offer your arm above the elbow (their left hand on your right arm or opposite). You can tap their arm, as this prevents the person from having to feel around. Most of us are not looking to feel around a stranger to find their elbow—seriously!
I feel confident in my travel skills with my sturdy white cane. With these tips, I hope it'll be safer and easier for everyone with a white cane to get around.
Find out how you can get involved in your community's White Cane Day activities by finding your local blindness-related organizations via the AFB Directory of Services.
More on White Cane Day
White Can Day: Let's Go Back to the Future with Slim, My White Cane