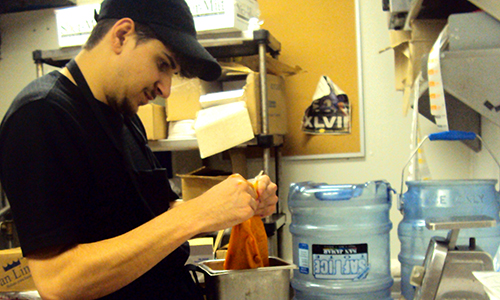 During my travels for the AFB Teen Employment Workshop Series, I have the opportunity to meet with a lot of young people and the professionals who work with them. I provided a workshop at the Maryland School for the Blind (MSB) in Baltimore during the month of April. The workshops are just one of the ways that AFB and the CareerConnect web program make a large impact around the United States. In the last year and a half, the program has conducted around forty-five of these granted teen employment workshops and numerous other activities surrounding each location.
While at MSB, I spent some time with the transition professionals, and they told me about one of their students who is working part-time at a Friendly's Restaurant. I was interested, and I wondered if I could pass on some questions for him to answer about his experiences. I get to meet a ton of youth and I am always interested in their experiences around work. MSB has a lot of neat transition activities, and I will highlight them in a future post.
Brandon Solomon is a young man who is making the right moves, and he has been proving himself on the job at a Friendly's Restaurant. Take the time to read about Brandon, and his experiences. If you know of any great stories about youth who are blind or visually impaired and working, please let us know. I think it is important to highlight these individuals. I know my work experiences provided a great foundation for my work ethic and perception of employment.
Read about Brandon Solomon, and then take the time to visit our the APH CareerConnect Our Stories section to read about successful people who are blind or visually impaired and working in numerous career fields.