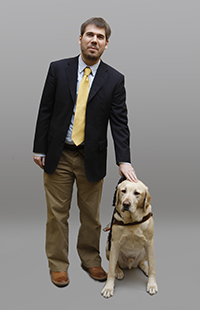 My commute to the office the last couple of days has been surprisingly pleasant. The sun has been shining, the birds have been singing, and the temperature has reached a refreshing 55 degrees. I am starting to think Punxsutawney Phil had the right idea; an early spring seems to be upon us. Regardless of the accuracy of his prediction, I am looking forward to a few extra hours of sunlight and warmer weather. But before we spring forward, I think we should take a look back.
Despite my eagerness to fast forward the seasons, I do find value in reflecting on the past. It is nice to see all that we have accomplished, the challenges we have overcome, and realize just how far we have made it in such a short time. In fact, AFB's Winter Focus did just that! This quick update gives you the inside scoop on AFB news and the stories of successful individuals living with vision loss. This edition in particular included a new article featuring National Technology Associate and CareerConnect mentor, Aaron Preece.
Aaron Preece has a great employment story! He first got involved with AFB as a student in the CareerConnect video called "Dress to Impress". From humble beginnings, he transitioned from intern for AFB Tech to employee. His story is the perfect example of how he accomplished, overcame, and advanced in his career.
So before you set your clock an hour ahead, take a look back at Aaron's story. Find your motivation this spring to become gainfully employed. Make this the season to look back and say, "I really have come a long way."