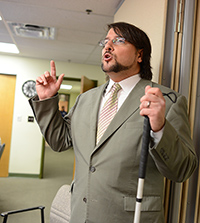 Many of us attend conferences, either as part of our job or conferences that are of special interest to us. Attending such conferences is a great way to make new connections, learn about new legislation or programs, learn about new technology and even get continuing education credits for various certifications. I work in the special education field as a Transition Specialist, and regularly attend several conferences in Wisconsin, where I work. Attending such conferences gives me the opportunity to learn about new trends that are happening in the field of special education, including updates on relevant legislation, new transition and employment initiatives in the state and catching up with colleagues and making new ones. Often, key leaders in the state will be in attendance and/or presenting. I have also presented at several conferences, which gives me the opportunity to share my expertise and improve my presentation skills.
For students and job seekers, many opportunities can be gained from attending conferences. By learning about new programs, grant initiatives and so forth, you can often gain firsthand knowledge about where new hires may be taking place. Generally people in attendance are quite approachable, and it's not unusual to catch someone after their presentation and let them know that you are seeking employment. It's a good way to meet with potential employers in a more casual setting than in an interview setting while allowing you to get more information about their organization or what they do. You may then want to request a visit to their agency so you can learn more about it and get a better sense of it and try to see how you may fit in. If you are serious about a job search, I recommend carrying a resume with you to share with potential employers, or at least request their business card so that you can send it to them later.
Many conferences have reduced registration fees for students, making it more affordable. Some look for volunteers to do various jobs, such as work at the registration area, assist vendors with set up or introduce speakers and then give you free admission in exchange for your service. These are good ways to get into a conference for low or no cost. Even if you have to perform your volunteer duties for much of the conference, you will still have the chance to network with people you meet.
Blindness related conferences, such as the American Foundation of the Blind (AFB) Leadership Conference, the National Convention of the National Federation of the Blind, (NFB) and the American Council of the Blind (ACB) offer much to job seekers. There are many opportunities to meet with leaders in the field and often times hear how they got to where they are in their career. For those who have questions about entering into a specific field, there is a good chance that you can find someone in that field and meet with them to learn specifics about best practices, how to get started, etc. NFB has an employment seminar every summer at their National Convention, addressing topics such as how to best disclose a disability to an employer, interviewing strategies, mentorship opportunities, etc. Last year at the AFB Leadership Conference, I attended a great session by Carl Augusto, who is the president and CEO of AFB. He presented on Tips for Success for blind professionals, sharing great advice on how to best work with sighted coworkers, using technology but not to the extent where you no longer interact with coworkers, how to be involved both in and out of the blindness field and how to best use mentors. I have not attended an ACB conference, but both the ACB and NFB have great student divisions. These divisions provide students the opportunity to learn about accessibility issues, scholarship opportunities, and the ability to connect with great mentors and develop leadership skills. In addition to their national conventions, the ACB and NFB both have affiliates in each state. The NFB has annual state conventions in each state as well as many local chapter meetings.
The Association for Education and Rehabilitation of the Blind and Visually Impaired, (AER) has a biannual international conference and many state and regional conferences. This year, the Arizona AER is teaming up with AFB for the Leadership Conference in Phoenix April 9-11. AER is a professional organization for those who work in the field of blindness, such as teachers of the visually impaired, orientation and mobility instructors and those who work in rehabilitation. AER conferences generally offer continuing education units, (CEU's) for those who have certification as a teacher or counselor. In addition to these blindness specific conferences, there are conferences in virtually every field from information technology to hospitality, retail workers, private business entrepreneurs, manufacturers, etc. For any job seeker or somebody who is interested in moving up the career ladder, I highly suggest attending a conference or two relating to your career interests.
Here are a couple of suggestions for getting the most out of attending a conference:
Review the agenda prior to arriving. This will give you the chance to familiarize yourself with the names of presenters, and give you a heads up on sessions you may really want to attend.
Dress professionally. If you want to impress possible future employers, other conference goers or possibly somebody of the opposite sex, you need to dress for it. The last conference I attended, I was told there were a lot of people wearing sweat pants and sneakers. Even though it was in a hotel were there was a water park, that is just not my style. I generally wear business casual, i.e. nothing less and maybe a step up from what I wear to work. People do notice.
Requesting accommodations. Typically, when you register for a conference, there will be a question about necessary accommodations. I typically request a braille agenda, as that works best for me to review during the conference. Other than the agenda though I generally request electronic documents for specific presentations. The trend lately for most conferences is to give all registrants a password, which allows you to a website where you can then access or download any handouts.
Networking. At almost every conference I attend, there is ample opportunity to meet other professionals, whether it be sharing a lunch table with others, asking directions to my next session, sitting next to somebody in a session or meeting other conference goers in the evening at the restaurant, bar, fitness center or pool. I make it a habit to carry business cards to share with others and then I often connect with people on LinkedIn. This way it is easy to follow up with them if I need to and to follow their career path. It also helps to remember someone the next time you meet them. It is also a good idea to always have some means of taking notes, so that you can write down important ideas, contacts or reminders.
So I hope you will take advantage of attending professional conferences to give your career a boost.