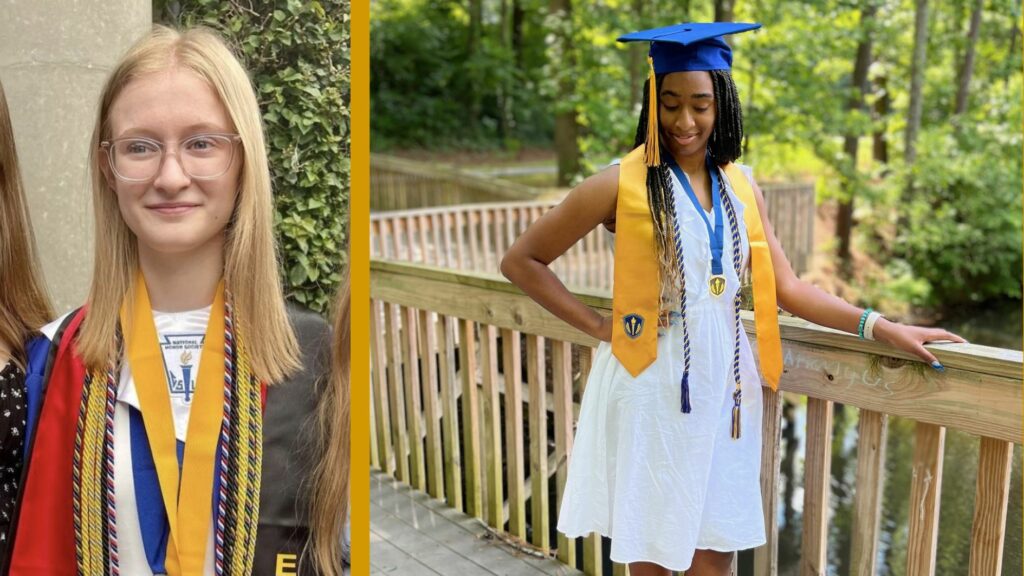 APH is proud to award scholarships to students who are blind or low vision, supporting them in pursuit of higher education. Recognizing the growing demand for people with skills in advanced technologies – and how viable those fields are for people who are blind or low vision – APH's 2022 scholarships focus on aspects of STEM (Science, Technology, Engineering, and Math).
Congratulations to this year's winners of two scholarships that support their big dreams.
Bella Cherin: PPG Foundation APH Physical Science Scholarship
New this year, the PPG Foundation APH Physical Science Scholarship recognizes students attending college in fall 2022 who are majoring in chemistry, physics, or another physical science.
Bella Cherin of Tarpon Springs, Florida more than fits the bill. Bella was declared legally blind in 3rd grade due to nystagmus and astigmatism, the cause of which was never diagnosed. She recently started her freshman year at the University of Florida, where she's majoring in Chemistry and minoring in Secondary Education for math and science. The scholarship provides $5,000 this fall and $5,000 in spring 2023.
"The scholarship is going to be super helpful," she says. "It takes a lot off of my student debt and makes it easier to live in the dorm and use the meal plan, so I can focus more on my studies and extracurriculars, like the APH Student Advisory Committee I recently joined."
With what's essentially a double major – and a plan to go straight into a master's program, which Bella thinks will be in forensic chemistry – being able to focus on her studies is essential.
But she's no stranger to hard work. In high school, Bella took AP (Advanced Placement) courses in Chemistry, Physics, Biology, Psychology, Macroeconomics, and Environmental Science. She's already earned college credit for taking the courses. What's more, she was named Outstanding 12th Grade Engineering Student and was her school's Salutatorian.
"I was in charge of chemical inventory my senior year in high school because I was a teaching assistant in chemistry," she says. "I got used to handling the equipment, and if I ever have any questions about where to stop measuring, I always have a lab partner or teacher who is right there."
Once she completes her college studies, Bella plans to become a teacher, having been inspired by her own teachers.
"I've always loved chemistry, and my teachers have really impacted me," she says. "So, I figured, why not teach Physical Chemistry to have the impact on students that my teachers had on me?"
Aunya Anderson: Peter Papano APH STEM Scholarship
Now in its second year, the Peter Papano APH STEM Scholarship recognizes students attending college in fall 2022 who are majoring in a STEM subject.
Aunya Anderson, from Woodstock, Georgia, is a freshman at Southern Adventist University in Tennessee. She's working toward a dual major in Biology – with a focus on biomedical – and Psych-Biology. Aunya was awarded $10,000 for the fall 2022 semester. Her dream is to become a pediatric rheumatologist.
"I grew up with a single mother and four siblings, and sending five kids to college is expensive," she says. "Because the school I chose was private and out-of-state, I lost a lot of state funding. When we got the email that I'd won the scholarship, it literally changed everything."
Aunya has already demonstrated a commitment to helping others. After attending a Pathfinders club program starting when she was 14 – which teaches living skills and spiritual development – she became a Teen Leadership Training participant. In addition, she's a mentor/volunteer for National Federation of the Blind (NFB). During the summer, NFB hosts the Braille Enrichment for Literacy and Learning (BELL) program, which Aunya also participated in as a learner until she was old enough to be a mentor.
Already familiar with a variety of assistive technology, Aunya is working with her college professors to find ways to use a microscope, such as camera attachments that project the image from the microscope onto a laptop or computer.
She has tunnel vision and depth discrepancy, due to a variety of eye conditions. The doctors believe her eye conditions are related to her primary health issue, scleroderma, a group of autoimmune diseases that are managed by a rheumatologist.
"I started seeing a pediatric rheumatologist when I was six years old, who was amazing and really helped my mom and me understand what I was going through," Aunya says. "Then when she moved away, I had the exact opposite experience with my new doctor: I felt I'd gone backward in my treatment. That's why I'm laser-focused on becoming a pediatric rheumatologist. There's a deficit in this field of doctors, and especially good ones. I want to be one of the good doctors for kids."
Congratulations, Bella and Aunya! APH is honored to support your dreams.
Learn more: