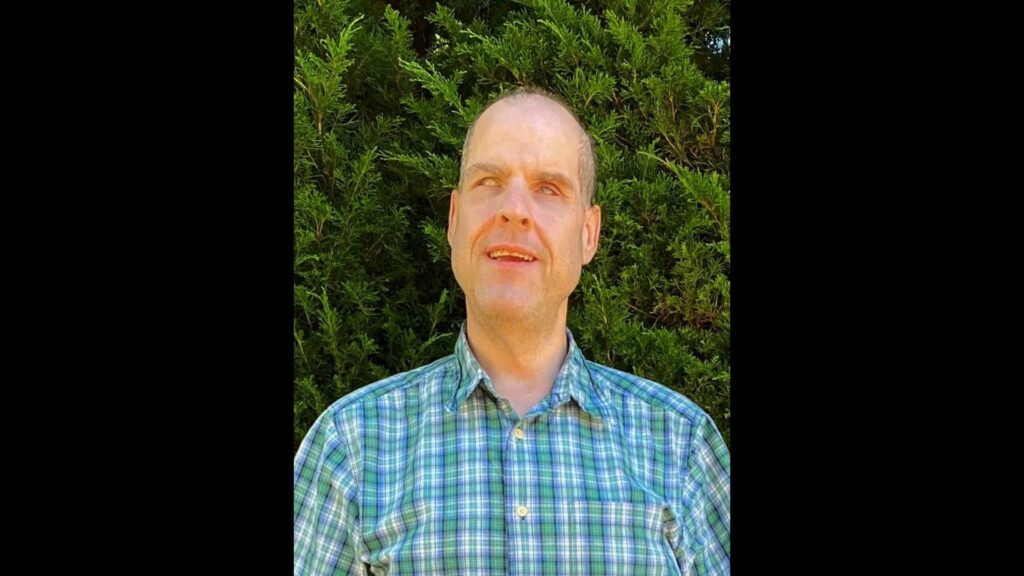 Editor's note: The third Thursday of May is Global Accessibility Awareness Day (GAAD), when people worldwide can learn and talk about access and inclusion for all people with disabilities. Here, Jeff Bishop shares about his career in accessibility.
Jeff Bishop not only relies on accessibility tools. He is part of the team that creates them for Microsoft. A Product Manager on the Windows Accessibility team, Jeff has worked for Microsoft twice in his career.
Fascinated with technology from a young age, Jeff started working with amateur radio and then began exploring computers in about 7th grade, never letting the fact that he was born blind stop him. Jeff took computer programming classes in high school on a Commodore computer – a far cry from the kind of technology that exists today.
"Those classes were really challenging because we didn't have screen readers on school computers at the time, so I had to work around it," Jeff says.
He started studying computer programming in college in 1985, but when he got his first job in 1987 – working first in documentation writing and then development – his learning turned entirely to practical experience.
Jeff started his first job for Microsoft in late 1995, saying that working with Microsoft Windows back then was "amazingly fun and very challenging for us to learn and dive into."
As he explains, Windows-based screen readers were fundamental at the time, whether using Microsoft's Narrator, NVDA or JAWS.
"We had to get really creative and learn quickly," Jeff says. "A tip I'd pass on to everyone – because I did it – is to take advantage of the people on the team around you. Don't be afraid to work as part of a team. We had to come up with an approach that would allow me to be successful with a very visual-based tool, but I knew people on my team had the answers, and we worked together to come up with creative solutions."
Mastering technology as a key to success
Whether at work or in his own life, Jeff emphasizes the importance of becoming a master of technology.
"If you're a craftsman, you need to be an expert at all those tools in your toolbelt," he explains. "That's true for assistive technology users, too. However many screen readers you use, be as much of an expert as you can in the technology because it's going to put you in the best frame for success in the future as you move through life and your career."
He adds that it's a principle he constantly applies to his work at Microsoft today. "Sometimes, we have to be a lot more creative about what we do because we're so visual," Jeff says. "It brings us an opportunity to excel in different ways, which I think is one of the reasons why people who are blind or visually impaired are so creative because we have to be highly adaptable."
After a number of years working for Microsoft initially, Jeff had an opportunity to work for the University of Arizona in their Information Technology (IT) group, where he stayed for about 15 years. He worked on the student information system and learning management system – the latter becoming central to educational institutions today – but when screen readers became less adaptable to the databases he was working on, he transitioned to a different role before ending his time at the university.
Embarking on a later-life career to make a difference
Jeff returned to Microsoft in 2017 as a Product Manager. He says people might wonder why he would make a big career move in his 50s, but he did it because he knew he could make a difference in people's lives.
"It wasn't about money or prestige or anything like that," he says. "It was about wanting to be able to make as big of a positive impact as possible on the lives of people who are blind or visually impaired, and to contribute to the work of giants in our industry. I work alongside some amazing leaders, and it's one of the greatest opportunities I think I've been given in my career."
One of Jeff's mottos when he goes to work each day is to come home having learned something new – which he does. His daily tasks vary, but it often involves responding to customer feedback, which he says Microsoft takes very seriously.
Among the first products Jeff worked on when he returned to Microsoft was the keyboard model for Narrator, and initial customer feedback was, "It's okay, but it's difficult to get on board with it compared to NVDA or JAWS because it's so different."
Jeff and others on his cross-disciplinary team – and other teams they collaborate with – met with the Narrator Advisory Board, which comprises customers and professionals who provide input on features and designs. Their feedback helped the team understand the problem they needed to solve.
"We kept the things that Narrator did well, but we also wanted to make sure we developed a keyboard model that would meet customers' needs, and I think we did that," Jeff says. "We've gotten really good response on the new keyboarding model."
He finds it exciting that because Microsoft is continuously working to innovate in the accessibility space, he gets to do the same. Plus, Jeff works alongside a number of other experts, including developers, who are blind. He works on many projects with people at Microsoft and listens and responds to user feedback. It's just one more example of the team effort Jeff finds invaluable.
"Find great mentors, learn from giants, don't be afraid to make mistakes, fail fast, and have a growth mindset," he says. "If you're willing to be adaptable to your environment, the possibilities are truly endless for what anybody can do."
Learn more:
Check out Jeff's Career Conversation interview and his responses to audience's career-related questions!