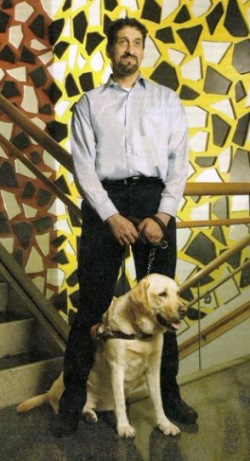 After returning from the AFB Leadership Conference in Brooklyn and recovering from two weeks of travel, workshops, meetings, and a wonderful conference, I am all kinds of excited to push a lot of information out to you. My partner in crime, Detra Bannister, wrote an Our Stories piece about Albert Rizzi. She posted her story right before the conference, and if you attended the conference, you might have met him. Mr. Rizzi spoke at the AccessWorld Technology Summit during the preconference. I can report that Mr. Rizzi is the real deal, and he is making a difference for persons who are blind or visually impaired. I would call him an advocate who has taken his impact to the next level with technology, education, and more. You might have heard about him in the past months from the news too.
APH CareerConnect's Our Stories section is all about providing you with real stories about successful people who are blind or visually impaired. These Success Stories give you an insight into our mentors and the path that lead them to success.
This is Detra's introduction to a must read story and latest addition of the Our Stories section.
Meet Albert J. Rizzi, educator, advocate, and now, CEO. You may recognize him as the gentleman who was ejected from a US Airways' flight when a flight attendant took issue with his dog guide Doxy's position in the cabin. Suddenly and without notice, Albert and Doxy were taken off the plane. It was a horror story—but it turned into a tale of affirmation and support when Albert and Doxy's fellow passengers challenged the injustice and gave up the flight rather than fly without them. But, there is even more to Albert than just this one newsworthy event. Read his story to learn how, after suddenly losing his sight, he transferred his skills into building blocks for the future and the outstanding career he has today.
Read Albert Rizzi's story now, and learn more about him and his road to success.