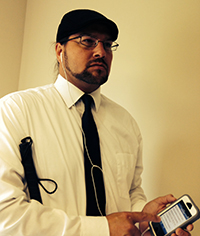 I wanted to take the time to write a little bit about how my iPhone allows me more access. I could say to my life, work, but it is so much more than that. I know my wife might argue that I am a bit too much in love with my iPhone, but it provides access through one device that fits in my pocket like I didn't have prior. You might say this post is five years too late, but the fact is the apps and access has changed since that point. I know many people who are blind would agree with me or provide their own insight into the access created. I use Voiceover on my iPhone, and I truthfully wish I could increase the verbosity of it past the current high end. Apple, if you are reading this, get on it (please)!
I travel a good amount for my job as AFB's CareerConnect Program Manager, and my iPhone comes in quite handy, as I access my email, phone, and much more. I use the TapTapSee app (2014 AFB Access Award winner) to figure out which bottle is shampoo and conditioner in my hotel room. I know not to take the picture with the mirror in the background or else I might get a warning, "put some clothes on, buddy!" I use Tap, Tap, See to access a lot of things, from figuring out what is infront of me to the color of a shirt.
I use my accessible Comcast app, TV Go, to access the latest television programs from my cable provider. Thank you, Comcast, for creating an accessible app that allows me to access my guilty pleasures while traveling. Next, work on a way to get video description on that programming through the app and I might give you a big hug. I think you all know that I love video description. But for now, I will get back to HBO's Boardwalk Empire.
I use my LookTel Money Reader to identify my cash prior to folding it. It hasn't failed me yet. I think it costs about $1.99 and it was found to be the most accurate of the money identifier apps a while back. I use my Chase Bank app to monitor my cash flow or lack of it at times — my love for food, apps, and iTunes can make a real dent in my available cash.
I suggest iBooks, BARD Mobile, Bookshare, Bleo, and NFB Newsline to access books and periodicals through your iPhone. I love grabbing my books in an e-text format, as I dig the synthesized speech for reading versus a human voice. It doesn't distort as much with higher speeds. There are many options via pay per book, subscription, or registration.
Obviously, I use my iPhone to access my work and personal email, as I can stay on top of my projects and correspond with my colleagues. I look for flight alerts in my email and gate changes at the airport. I can't see the signs, but I tent to know the gate changes prior to any announcements. I also make sure to stay up to date with the latest news on the New York Yankees through the MLB at Bat app (2012 AFB Access Award winner). It is important to have your priorities straight. I also stay up to date with the East Carolina University Pirates and Florida State University Seminoles through apps.
I use TuneIn Radio to access different radio stations around the United States. I have the NPR News app to keep up with my favorite public broadcasting. I listen to various podcasts via the Podcast app from Apple.
I use my Marriott Hotels app to keep track of my hotel stays on trips and such. It isn't perfect, but I get access to the information I need. I may forget on a long trip to have the full list of my hotels, and this provides the access I need. I use the US Airways app to keep track of my flights.
I use the GPS and direction features to keep my cabs on track. I used it twice in New York because my cab driver didn't know where a street was in Brooklyn. I was like, "I got this, bam!" I had created the route and got us to the location. He wanted to take me to Manhattan, and I was like you are on the wrong track. I use Around Me to check out what is in area and check out the blocks around me.
For access to food in my area, I use FourSquare to access close restaurants and their menus. If I am in a restaurant, this can provide a more accurate menu than a braille menu from five years ago or longer. I use urban spoon when traveling to figure out the local restaurants and possibly which deliver.
I use Text Detective and ZoomReader to access small amounts of print text, neither is perfect or great. I was just taught how to use Uber to get cabs and cars. It seems fully accessible, but the wording at times isn't perfect in the labeling of buttons and requests. It works, though. When I really have the need to make the "whip" sound, I break out the Pocket Whip app. You never know when a good whip sound will come in handy, especially when you add the music from Indiana Jones.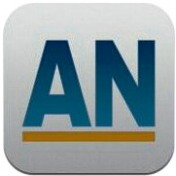 When in meetings, I use the AFB AccessNote app to take and keep track of my notes. It syncs with my Dropbox account, and it has a really great search on it. I read the latest and past issues of AFB's AccessWorld® Magazine through the AccessWorld App. I want to keep up with all of the changes in technology and accessibility through the free monthly online technology magazine. And stay tuned, you can look for more information on AFB's CareerConnect App coming soon to the Apple App Store.
These are just a few of my thoughts on the apps I use while traveling around the United States. Make sure you are not caught without your Pocket Whip app. You don't want to be the one saying, "Oh, I really meant to download that app." Let me know the the apps that you use while out and about.