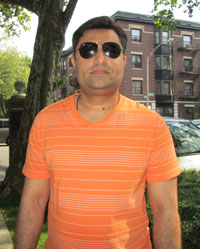 I am not the most tech-savvy person in the world. I try my best to keep up-to-date on technology and to fix any problems that come up, but I don't handle it well when it doesn't work out. I usually end up getting into a duel of wits with my computer. Unfortunately, the computer always wins.
After I admitted defeat this last time, I found CareerConnect's newest Our Stories piece about Syed Hassan. Syed is a computer science major and a Web intern at the American Foundation for the Blind (AFB). In his story, he explained how he lost his vision years ago in an armed robbery and has worked ever since toward achieving his goals.
Syed loves technology and learning new things, but he too expressed how he gets tired and stressed when he can't figure out a solution to a problem. Syed explained that pushing hard or trying to work out a solution tirelessly doesn't always produce desired results. He said it is best to take a break and have a fresh mind and relax the body before returning to a problem.
I went back to the problem I was having with my computer and tried to figure it out. I thought about what Syed said in his story and then I got an idea. I emailed the Service Desk, which is like issuing a technology SOS at our office. Well, actually, I emailed Joe and he emailed the Service Desk. Like I said before, I am not the most tech-savvy person in the world.
APH CareerConnect's Our Stories section features stories about successful people who are blind or visually impaired who are making it happen everyday. Read Syed's story and learn what he is doing to achieve his goal of gainful employment.