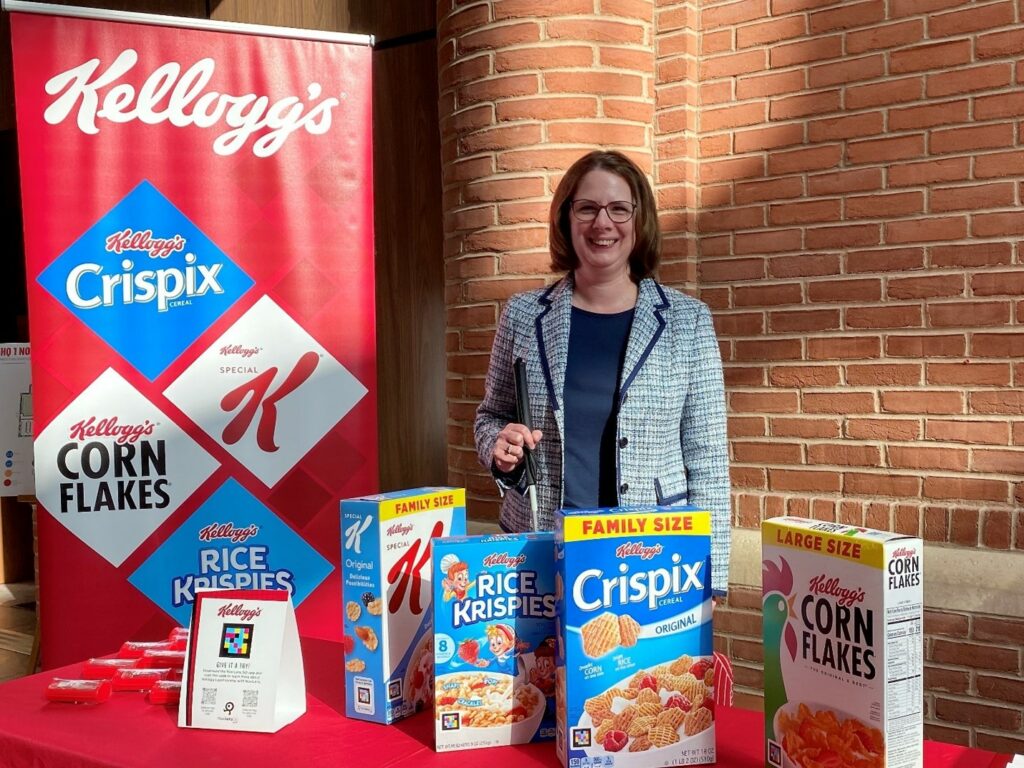 Snap. Crackle. Pop. Certainly, those are sounds that instantly remind us of a beloved cereal. However, until recently, people with blindness or low vision may have had difficulty finding specific cereals on grocery store shelves.
But Kellogg Company, the people behind some of the most popular cereals in the world, has come up with a solution that may help people who are blind or low vision find the exact cereal they crave. Kellogg has become the first food company in the United States to introduce NaviLens technology into the packaging of four of their cereal brands: Kellogg's Corn Flakes®, Special K Original®, Rice Krispies®, and Crispix®. In fact, they were the first company in the world to introduce this technology to food packaging when they launched it in Europe in 2020.
NaviLens Technology
Cereal lovers who are blind or have low vision will be able to find some of the Kellogg's brands much more quickly than in the past. The front and side of these cereal boxes feature a NaviLens optical smart code comprising high-contrast colorful squares on a black background. Shoppers with the NaviLens or NaviLens GO app on their smartphone can use them to navigate to the boxes and hear the cereal name, package sizes, and nutritional information.
The initiative is part of Kellogg's Better Days® Promise to advance sustainable and equitable access to food by addressing the intersection of well-being, hunger, sustainability, equity, diversity, and inclusion for 3 billion people by the end of 2030.
Inclusivity
"We work hard to think outside the box to ensure our products are accessible to as many people as possible," said Charisse Hughes, Chief Growth Officer at the Kellogg Company. "Thanks to the hard work of our cross-functional teams, we're able to adapt and leverage this technology to ensure we're living by our purpose – to create a place at the table for everyone."
If you visit Kellogg's website or research the company, you will find "A place at the table for all" is engrained in their culture. "Inclusion" is an action, and creating and sustaining a diverse workforce is at the heart of the company.
Kellogg has also committed to incorporate NaviLens codes in all corporate facilities in the U.S. by the end of 2023, and they have already installed codes in their global corporate headquarters in Battle Creek, Michigan.
Kellogg didn't just create a program and cereal box without doing its research. The company had direct feedback from the audience who would most benefit from this program.
Meet Beth Foor
Beth Foor, who has progressive vision and hearing loss due to Usher syndrome, is a member of Kellogg's Corporate Affairs team and a co-chair of the company's employee resource groups for employees with disabilities. She worked hand in hand with various teams at Kellogg to bring the NaviLens partnership to life in North America.
"I'm honored to be able to play a part in making some of Kellogg's most iconic products more accessible," Beth said. "I'm grateful for my colleagues and our leaders helping us create better days for the blind and those with vision loss."
Beth has built a rich, fulfilling career at Kellogg. She joined the company in 2019 and found that Kellogg has a very supportive and inclusive culture that celebrates the diversity of its employees. "Kellogg provides me with the tools and resources I need to do my job with the challenges of having low vision and a hearing loss," she added. "In addition, being a member of Kapable, Kellogg's Business Employee Resource Group for employees with disabilities and supporters, has provided me with a network of support."
When asked for advice for others who are blind or low vision and looking to enter the workforce, she said, "Even though we face unique challenges, our future is bright. Individuals with disabilities have to work hard and not give up. This resilience sets us apart in the workplace and allows us to shine. Focus on what you can do and your many capabilities, not your limitations."
She urges jobseekers to "be upfront and honest about your disability during an interview – it puts everyone at ease." During the interview, "focus on the skills and experience you can bring to the job. Ask questions about the job and responsibilities, not how the prospective employer can accommodate your disability. Once you are offered the job, then you can work out the accommodation details."
Kellogg is making great strides and leading the way for those with disabilities. Hopefully, it is only a matter of time before additional food companies follow.