The CareerConnect Newsletter for Mentors and Professionals
AFB and APH Partner for a Future of No Limits for People Who Are Blind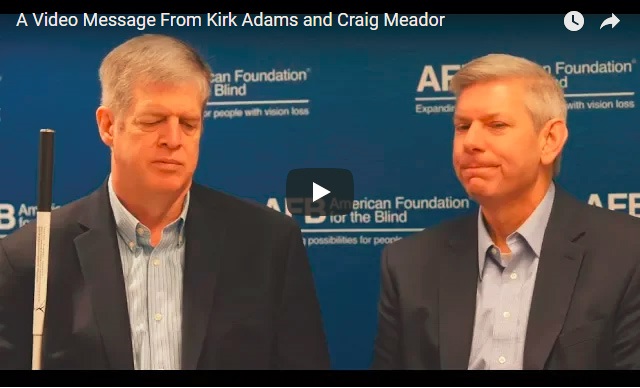 As a CareerConnect subscriber, we wanted to make sure you saw this announcement of a major new partnership between AFB and the American Printing House for the Blind (APH). APH will be taking on the stewardship of CareerConnect, FamilyConnect, VisionAware, BrailleBug, and AFB Press. We are committed to a smooth transition for these critical programs, and the two organizations will be working in close partnership for several months. As Kirk Adams, President and CEO of the American Foundation for the Blind and Craig Meador, President of the American Printing House for the Blind noted in their video message, AFB and APH have long been close partners, and we look forward to keeping all of these programs relevant, supportive, and strong. We will keep you posted as this transition progresses, and we welcome your questions and feedback. For more information on this new partnership and AFB's changing strategic direction, check out these resources:
CareerConnect Survey Results
The CareerConnect feedback survey was live for two months on every page of the CareerConnect website and offered one lucky responder the chance to win an Amazon Echo for taking the time to answer our questions. Here is a summary of the CareerConnect "Tell Us What You Think" survey results.
There were 168 participants who completed the survey.
Less than 14% of the participants reported "no difficulty seeing."
Approximately 86% of the participants indicated some level of vision loss.
Over 45% of the participants reported that they "cannot see at all."
About 10% of the participants reported some level of hearing loss.
Although this information cannot be generalized to everyone who uses CareerConnect, we are gratified to know that a large percentage of our respondents are people with significant vision loss. Over 32% of the participants indicated that CareerConnect is "very helpful." However, 14% of participants scored below the midpoint on our five-point scale, with 1 being "not at all helpful." We hear loud and clear that we need to improve. One individual who completed the survey said, "The career-related blog posts are helpful, and I enjoy success stories of other blind job seekers." Additionally, 33% of the participants reported using the "Information and inspiring stories about people with vision loss (e.g. CareerConnect Mentor Program or CareerConnect Our Stories)." Almost half (48.2%) of the participants indicated that they would "definitely" visit CareerConnect again, and over 91% would recommend CareerConnect as a resource to others. Thank you for your valuable feedback. It will be used by future personnel to continuously improve CareerConnect.
Announcing the Winner of the Amazon Echo!
Thank you to all who completed the most recent CareerConnect feedback survey. Your opinions and observations are vital to making CareerConnect the best resource it can be. A responder was chosen at random, and we are excited to announce that Jesus Reyes was selected. Jesus is looking for work, so CareerConnect was the ideal solution and completing the survey was extra rewarding. Jesus finished an internship a few months ago with learning.com, where he reviewed their website and educational tools for accessibility. He hopes to find more opportunities like this in the future. Jesus said, "It is very empowering to help make things better for students." Jesus has some experience using an Amazon Echo, and he is excited about having instant access to news and podcasts. Congratulation to Jesus, and thanks again to all who completed the survey.
Success Stories from Individuals Who Are Blind or Visually Impaired
Check out the latest first-hand accounts from CareerConnect mentors working as employees who are blind or have low vision. Read their stories!
New from the CareerConnect Blog
We've added new blog posts offering advice and tips on finding gainful employment, working with sighted employers and coworkers, and more!
Tips for Finding Gainful Employment
Tips for Working with Employers and Coworkers
And More!
Thank You from AFB!
Thank you for being a CareerConnect user. The staff and consultants at AFB trust that CareerConnect will continue to be a valuable resource for you. If you are a job seeker, we wish you the best in your employment search and success to you and those you serve if you are an education or rehabilitation professional. It has been our privilege to serve you through CareerConnect.